FG launches food programme to curb malnutrition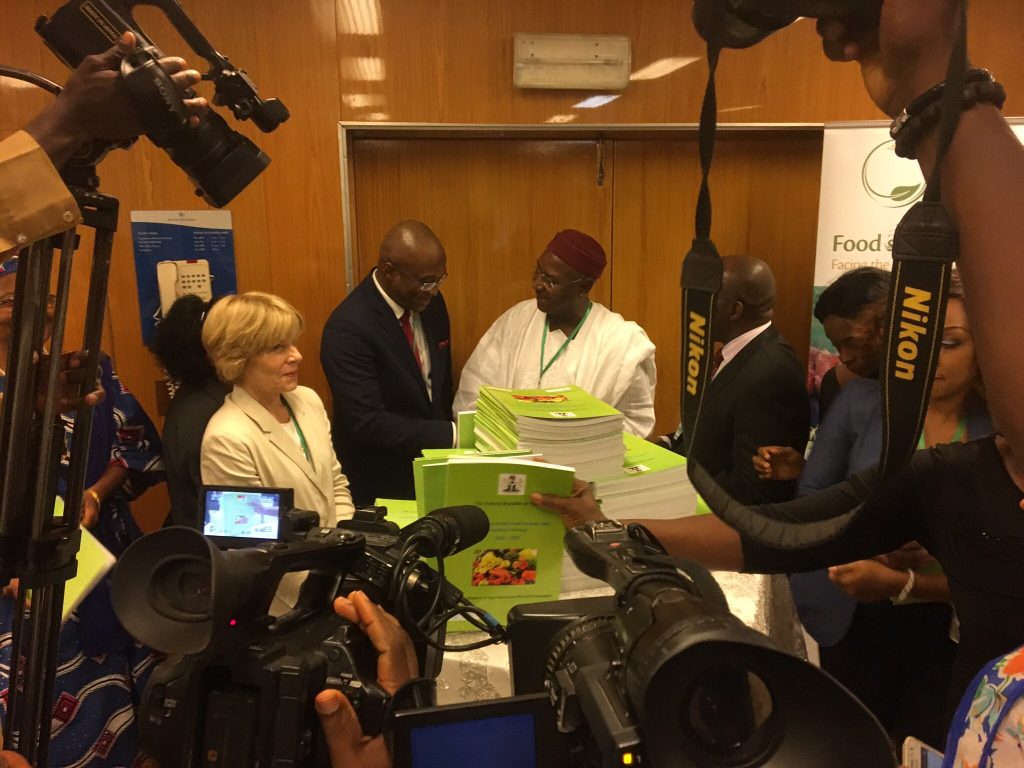 Article originally published in: NAN
At the Launch of the document in Abuja on Tuesday, Chief Audu Ogbeh, the Minister of Agriculture and Rural Development, expressed regrets over the alarmingly poor level of food safety in the country. Ogbeh, represented by Prof. Abubakar Hafiz, the Deputy Gov. of Kano State, said the strategy would serve as a driver toward making food safe from production, preparation and storage. He said the event co-hosted by the ministry and the Global Panel on Agriculture and Food Systems for Nutrition was apt, adding that it would help tackle malnutrition challenges in country.
"With this strategy, agriculture and food systems in Nigeria are being deliberately harnesses to boost nutrition. It is expected that the successful implementation of the strategy will translate to a sustainable reduction of malnutrition thus, unlocking the immense potentials of generations for economic growth,'' he said. Hafiz called for the establishment of a National Food and Nutrition Commission to coordinate, collaborate and mobilise resources for the implementation of the document. He said that the implementation would require collaborations between the federal, states and local governments.
Prof. Sandy Thomas, the Director of the Global Panel on Agriculture and Food Systems for Nutrition, said the strategy would help support policy makers in the country to make informed decisions. Thomas said that one in three persons in the country were malnourished, noting that the menace would rise if necessary actions were not taken. She suggested more investments to scale up nutrition programmes in the country. "Meeting the 2015 World Health Assembly target for stunting will add 29,7 billion to Nigeria's income,'' she said.
Dr Philippa Momah, representing a Civil Society Organisation (CSO) known as 'Scaling Up Nutrition', called for collaborations from relevant stakeholders, private and public sectors to implement the strategy. The Special Adviser to Ogbeh on Food Security and Nutrition, said the strategy had eight priority areas of enhancing food value chains, diversified food production targeting women and nutrition education among others.