Food environments: a new approach on nutrition in Nigeria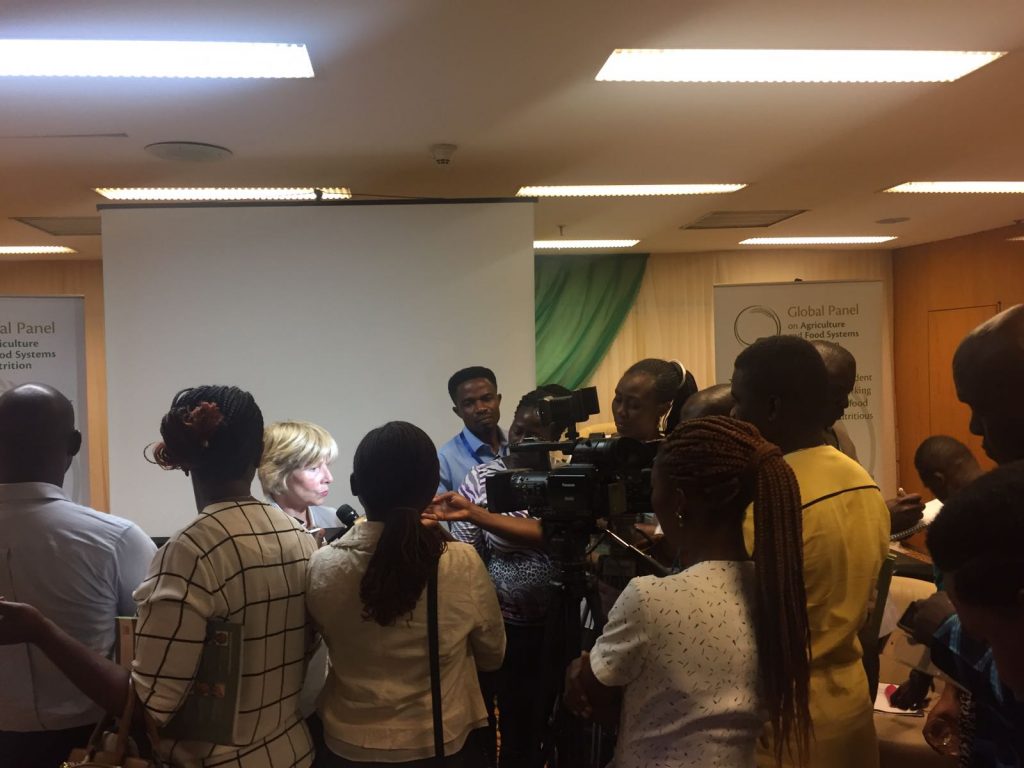 Following the Federal Republic of Nigeria's Agricultural Sector Food and Nutrition Strategy 2016-2025, launched yesterday by The Federal Ministry of Agriculture and Rural Development (FMARD), the Global Panel on Agriculture and Food Systems for Nutrition is launching today its latest policy brief "Improving nutrition through enhanced food environments" which provides recommendations on how the food environment, or the interface between consumers and the food system, can be influenced to promote the consumption of higher quality diets.
The brief shows that if Nigeria is to meet the targets set out in its Strategy, it will require the private sector, civil society and government
to work together on the key priorities, including:
Implementing economic measures (taxation of unhealthy foods, and subsidies for healthy options). 
Encouraging the marketing and promotion of high quality diets whilst restricting advertising and promotion of unhealthy foods. 
Reformulating, labelling and processing foods in ways that increase their nutritional value and safety.
Providing high-quality foods in schools and workplace schemes.
Collecting better data on the quality of food environments.
Alongside the Global Panel's Foresight report "Food systems and diets: Facing the challenges of the 21st century", this brief will help frame policies going forward, and inform the implementation of FAMRD's Strategy. Following the momentum gathering around the African Leaders for Nutrition Initiative (ALN), the time is ripe for policy-leaders in Nigeria to embrace a new approach to combatting malnutrition in all its forms, one where food systems support safe, accessible and affordable high-quality diets for all.
Nigeria is facing significant challenges to meet four of the five 2025 World Health Assembly targets for improving maternal, infant and young child nutrition, coupled with the emerging threat of obesity and a rise in diet-related non-communicable diseases.
With FMARD's new comprehensive Strategy, which takes a long-term, whole food systems approach to the problem, the Nigerian Government is committed to increasing efforts to combat malnutrition. With a focus on agriculture, food systems and nutrition, the Global Panel is in Abuja with other stakeholders to reinforce this approach.
As Nigeria faces new economic, health and social challenges in the coming decades, the government is preparing to transform its food environment in ways that promote greater diversity, availability, affordability and safety of nutritious foods for all.
According to the Honourable Minister of Agriculture and Rural Development, Chief Audu Ogbeh: "The development of this strategy means that the expected impacts of agricultural development on nutrition can no longer be left to chance. With this strategy, agriculture and food systems in Nigeria are being deliberately and strategically harnessed to bear on nutrition."
"It is expected that the successful implementation of this strategy will translate to a sustainable reduction of malnutrition in Nigeria in all its forms, thus unlocking the immense potentials of generations of Nigerians to advance our national economic growth and development."