Nigeria: Global Panel to support implementation of the Nutrition Strategy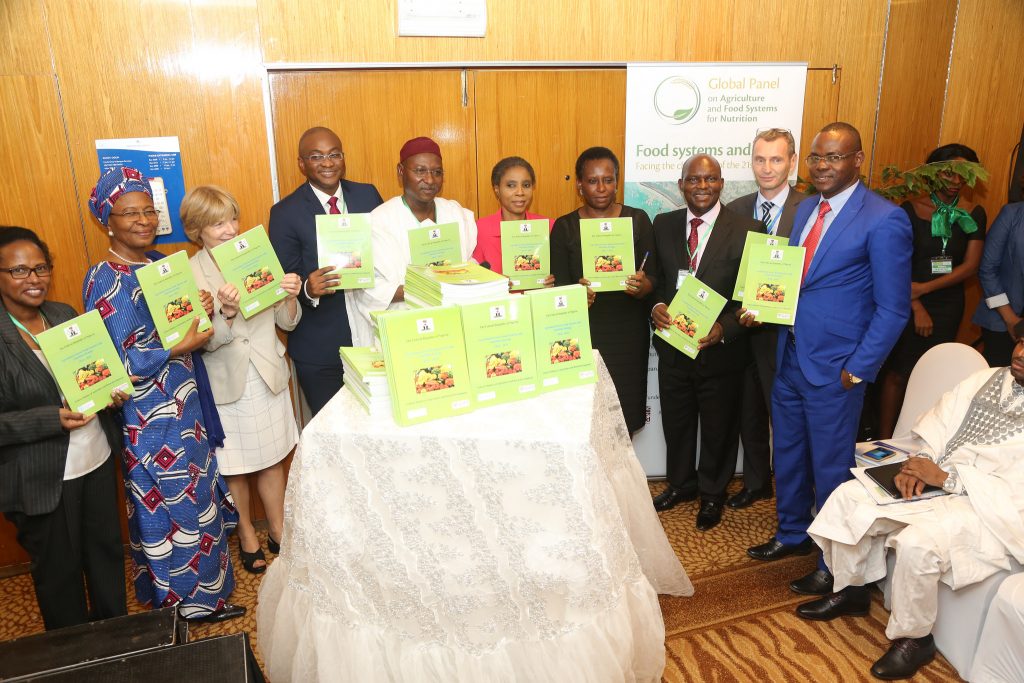 The Food and Nutrition Strategy 2016-2025
The Global Panel on Agriculture and Food Systems for Nutrition and Nigeria's Federal Ministry of Agriculture and Rural Development have organised a series of events aiming to explore how the Global Panel's work can support and inform Nigeria's strategic approach to achieving healthy diets for all, now and in the future.
In Nigeria, as in most African countries, overweight and obesity exist alongside stunting and wasting, and this "double burden" of malnutrition continues to grow.  Against this backdrop, the events connected Nigeria's key decision makers with the best independent and robust evidence to support action, drawing particularly on the Global Panel's Foresight report "Food systems and diets: Facing the challenges of the 21st century".
The Global Panel's support in implementing the Strategy
At the events, participants explored how the recommendations set out in this Report might help frame policy and inform its implementation, specifically through the "Federal Republic of Nigeria's Agricultural Sector Food and Nutrition Strategy 2016-2025" (the Strategy), which was launched on the same day.
The discussion focused on how Nigeria's government and the private sector might work together at the state and federal level to develop scalable interventions to achieve food security and nutrition (FSN). To this end, the hosts invited thought leaders and key decision makers from across government, the business community and civil society to:
Articulate Nigeria's FSN challenge over the next decade with particular reference to the Global Panel's Foresight report and the priority areas set out in Nigeria's FSN strategy;
Set out how the evidence developed by the Global Panel might advance understanding and support key actors at all levels of governance in developing scalable, investable and sustainable solutions to Nigeria's double burden of nutrition; and
Identify opportunities, incentives and next steps for new multi-sectoral partnerships to develop effective interventions along the food value chain and mechanisms/metrics to measure progress.
This event was also considered in the broader context of the African Union's Malabo Declaration, which calls for the pursuit of agriculture-led growth as a main strategy to achieve targets on food and nutrition security and shared prosperity and the realisation of the Sustainable Development Goals which provide a powerful and enabling framework for action and change.
HIGH-LEVEL ROUNDTABLE AT A GLANCE
Honourable Minister of State @FmardNg, Senator Heineken Lokpobiri "Food doesn't just need to be made available, it needs to be nutritious" pic.twitter.com/CpGAyoApsP

— Global Panel (@Glo_PAN) May 9, 2017
The Global Panel's policy brief
A crucial part of delivering the Strategy is to promote a food environment that is capable of delivering healthy diets for all.
On the occasion of the launch of the "Federal Republic of Nigeria's Agricultural Sector Food and Nutrition Strategy 2016-2025", the Global Panel published its latest policy brief "Improving nutrition through enhanced food environments", which provides further actionable policy recommendations to support the implementation of the Strategy. This brief may be particularly helpful to help addressing the Strategy's strategic priorities, particularly priority areas 2 and 7:
Diversify household food production and consumption especially targeting women and increase access to micronutrient rich foods  
Nutrition education, social marketing, behaviour change communication, and advocacy 
©IFPRI/Milo Mitchell