A Focus on government action for nutrition in South Asia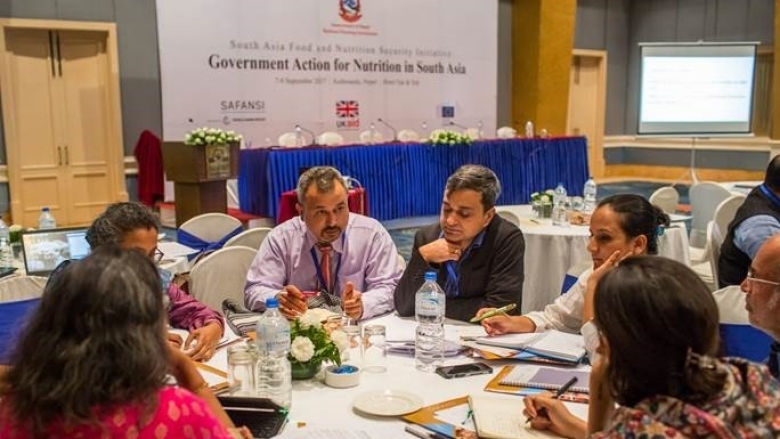 The goal of the Roundtable is to identify the best ways to scale up government nutrition programs for maximum impact. The roundtable will build on the progress achieved during the regional Budget Analysis workshop (2015) and Public Finance for Nutrition in Asia workshop co-organized by SUN and UNICEF in 2016.
It draws on the latest evidence and experience from ongoing nutrition investment programs in South Asia and beyond to explore the practical challenges of multi-sector nutrition planning, including subnational implementation modalities and multi-sector budgeting.
Dr. Manu Mathur, representative of Panel Member Srinath Reddy, is attending.
The event is being hosted by the National Planning Commission (NPC) of Nepal with funding from the South Asia Food and Nutrition Security Initiative (SAFANSI) of the World Bank, thanks to the contributions of UK Aid from the UK government and the European Commission (EC). It is co-sponsored by ten development organizations that support nutrition interventions in the South Asia region (see banner image), as well as SecureNutrition.
The event is by invitation only, and targets a mixed group of policymakers, program planners, and nutrition experts who work with Planning Commissions at the national and subnational levels. In addition, politicians, and representatives of civil society and nutrition-focused organizations, donor organizations, relevant UN organizations, international and regional NGOs, and research institutions will attend.
Follow the event via Twitter with #Govt4Nutrition, #SAFANSI, and #securenutrition.
Piece originally published in the World Bank Group website.
See also: South Asian Countries Collaborate Toward Better Nutrition.