Successful high-level roundtable: Providing healthy diets in Nepal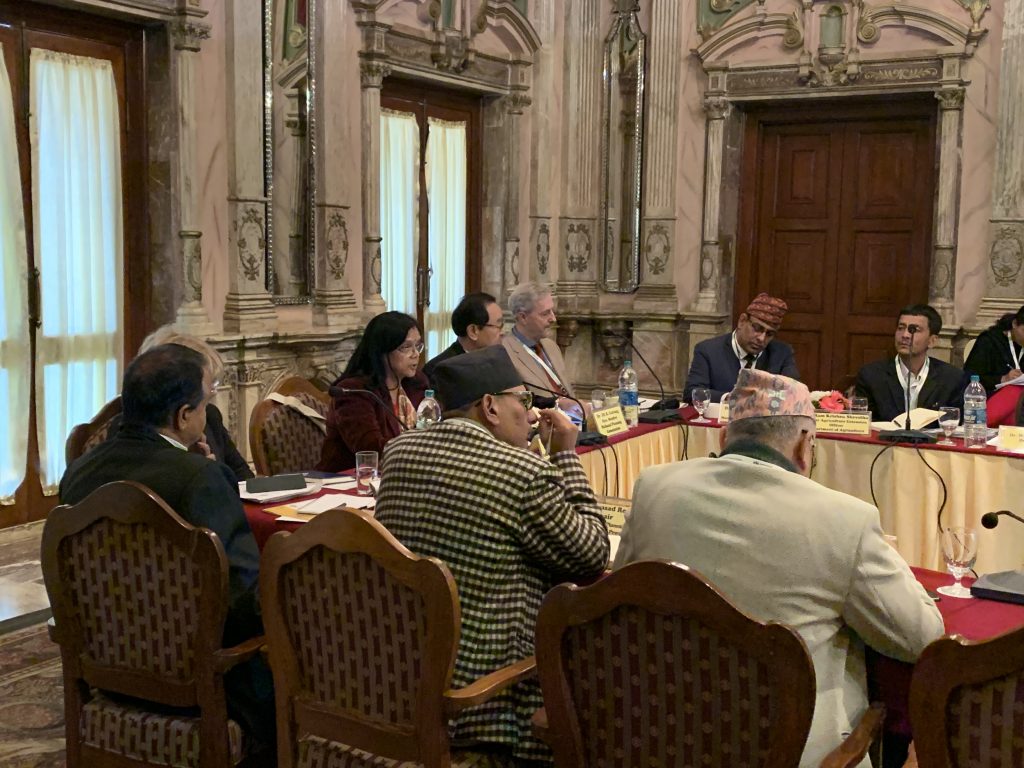 Press releases for this event can also be found in the following publications: Himalayan Times (available in English); Makalu Khabar, Sunakhari News and Jana Akash (available in Nepali).
On the 9th December, the Global Panel co-convened a high-level roundtable in partnership with the National Planning Commission (NPC) of Nepal, to discuss ways of transforming food systems to provide healthy diets for the people of Nepal. The discussion was chaired by NPC member Hon Dr Dil Bahadur Gurung, and Prof Srinath Reddy. This followed a food system briefing to Provincial government representatives on the 8th December chaired by Hon Dr Usha Jha, member of NPC.
In addition to participants from Government and institutions, there was input from key development partners, including the UN; private sector and civil society representatives.
Hon Dr Dil Bahadur Gurung, of the National Planning Commission said: 'The Multi-Sectoral Nutrition Plan aims to reduce malnutrition so that it no longer becomes an impeding factor towards enhancement of human capital and for overall socio-economic development.'  
Prof Srinath Reddy, member of the Global Panel on Agriculture and Food Systems for nutrition congratulated the government of Nepal for holding the meeting, to discuss innovative solutions to deliver healthier diets in support of the MSNP-II.
The National Planning Commission and Global Panel issued a statement of intent entitled 'Positioning food systems to deliver healthy diets in Nepal' as an outcome of the discussions.
Some of the discussion points are outlined below.
9th December – High-level Roundtable Meeting 
Points discussed:
– Decentralisation provides an opportunity to bring together various policies on nutrition and food security (e.g. MSNP, Food Sovereignty)
– There are challenges in capacity at the provincial and local level – We need to strengthen the food security and nutrition steering committees at federal and provincial level.
– Poverty is a root cause. Healthy foods need to be more affordable to the poor, and secure
the right of indigenous people to access land, water forests.
– We still have a lot of gaps in knowledge about the diets in our country. More information is needed
As a society we need to embrace our traditional foods, but this is a challenge when these can take a lot of labour to produce, especially when the burden falls among women.
8th December: Food System Briefing for Provincial Governments
Points discussed:
–  There is a need to accelerate progress through the MSNP-II in order to meet targets on all forms of malnutrition, to reduce hunger and contribute to SDG2.
–  There is an increasing trend of increasing consumption of 'fast foods' and a need for greater nutrition awareness
– Good road and transport networks can improve access to nutritious food
– There are opportunities to improve diets through milk, meat and fresh fruit, but storage and distribution systems need to be improved. There are also issues of hygiene in meat production
– Contamination by toxins would be improved by better storage facilities
– Government departments responsible for food safety need to be supported
– Land utilisation needs to be improved; migration has led to unproductive, fallow land. Much land is being converted to residential
– There is a need for better disaggregated data to find out the accurate situation in all provinces
With many thanks to partners from the National Planning Commission for a successful event, to Panel Member Prof Srinath Reddy for chairing the High-level roundtable, and to Technical Advisor Prof Patrick for his informative presentations.