Opinion Piece: How sustainable food systems can support a healthier and more prosperous Nepal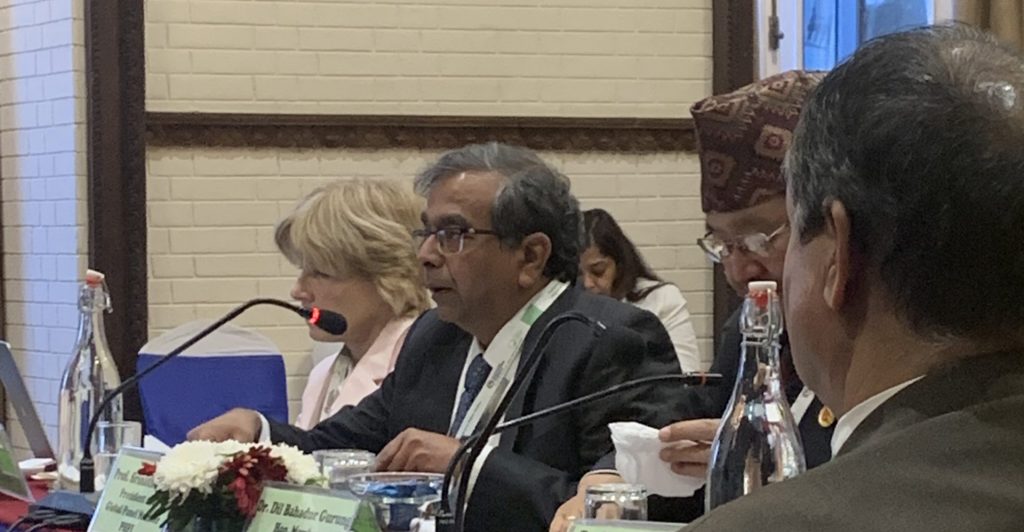 Opinion Piece by Professor Srinath Reddy. Prof Reddy attended and co-chaired the high-level roundtable in Nepal on the 9th December 2019.
Healthy Diets: How sustainable food systems can support a healthier and more prosperous Nepal.
The efforts from the Government of Nepal and its partners to reduce stunting in children by around 21% over the last 20 years, with similar reductions in anaemia in women of reproductive age, should be applauded. But malnutrition remains high, with around 10% of children under five in Nepal being wasted due to a lack of calories and 36% being stunted through a lack of essential nutrients, particularly in rural areas. Like other countries in South Asia, Nepal is off course to meet its World Health Assembly nutrition targets.
At the same time, there has been a rise in overweight, obesity and diet-related noncommunicable diseases. Since 2000, obesity has increased by 2 to 3% in men and women. Noncommunicable diseases now account for around 40% of the country's total disease burden and around 12% of adults in Nepal have diabetes, with unhealthy diets recognised as a leading risk factor.
This is resulting in a concurrent 'triple burden' of malnutrition, where energy or micronutrient deficiencies in parts of the population co-exist with overweight, obesity and the associated diet-related non-communicable diseases in others.
This 'triple burden' of malnutrition does not just affect our health. It also has a significant economic impact. In Nepal, an estimated 2-3% of GDP (US$250-375 million) is lost every year on account of vitamin and mineral deficiencies alone. When other impacts of child undernutrition are included, for example, years of lost education, impaired cognitive performance and lost productivity, GDP losses could be as great as 11% per year. Add to this the growing costs related to the treatment of diet-related noncommunicable diseases and there could be considerable economic consequences for Nepal.
The Government of Nepal has recognised this challenge, through its re-energised Multi-Sector Nutrition Plan (MSNP-II). This is a clear demonstration of its commitment to tackling malnutrition in Nepal. What is particularly important with MSNP-II is its focus on a multi sector approach, with the Government recognising that tackling malnutrition is not possible without sustained, coordinated action, bringing together many different stakeholders and other strategies on agriculture, health, water and sanitation.
However, the success of this approach and the ability of MSNP-II to reach its goals will be predicated on Nepal having a sustainable and well-functioning food system which are able to deliver healthy diets. Food systems go beyond agricultural production to include the storage, transport, processing and sale of food, as well as factors influencing consumer choice.
Rice makes up approximately 45% of foods consumed in Nepal. Integrating nutrition into agricultural policy could enhance Nepal's ability to reach health and environmental targets. For example, a policy to grow a greater variety of nutrient-rich crops that promote health could also help reduce crop loss, lower pesticide and fertiliser use, and prevent soil degradation. This could lead to increased farmer profits, improved nutritional status and food security, as well as help mitigate climate change. A policy win-win.
In Nepal, as with many other countries in the region, food waste is lost due to pests and spoilage on-farm or during storage and transportation. These losses compromise food safety and negatively impact the environment. It is estimated that up to 25% of food can be lost during transportation alone in Nepal. Reversing this trend could positively influence the affordability and price of nutritious foods in the country, as well as reducing negative environmental impacts.
On the consumer side, we are already seeing how diets and food systems are changing, but not necessarily for the better. Recent data from Helen Keller International has shown that for some children in Nepal, unhealthy snack foods and beverages can make up half of their energy intake, displacing nutrient-rich, traditional foods. Engaging the private sector through incentives and legislation at point of sale, as well as educating consumers to make better dietary choices could help reverse this trend.
Integrating the role of women in food systems will be imperative. 90.5% of women in Nepal are engaged in agriculture, which is the backbone of Nepal's economy
These are just a few examples of different entry points in the food system where actions will be necessary if the goals in MSNP-II are to be realised. Sustainable and well-functioning food systems are a fundamental component of fulfilling the agriculture, health, social and economic ambitions of Nepal. This approach will not only help support domestic policies, but will also accelerate progress on at least 11 of the 17 SDGs, serving to improve everyone's quality of life, society and the planet.
The forthcoming Nutrition for Growth Summit it Tokyo 2020 offers an excellent platform for Nepal to show regional international leadership by developing SMART commitments. Nepal is in a strong position to demonstrate effective ways to realign agriculture and food systems so they are more resilient and sustainable, and promote both planetary and human health.