Nutrition Research in Policy: Research impact on policy and practice in nutrition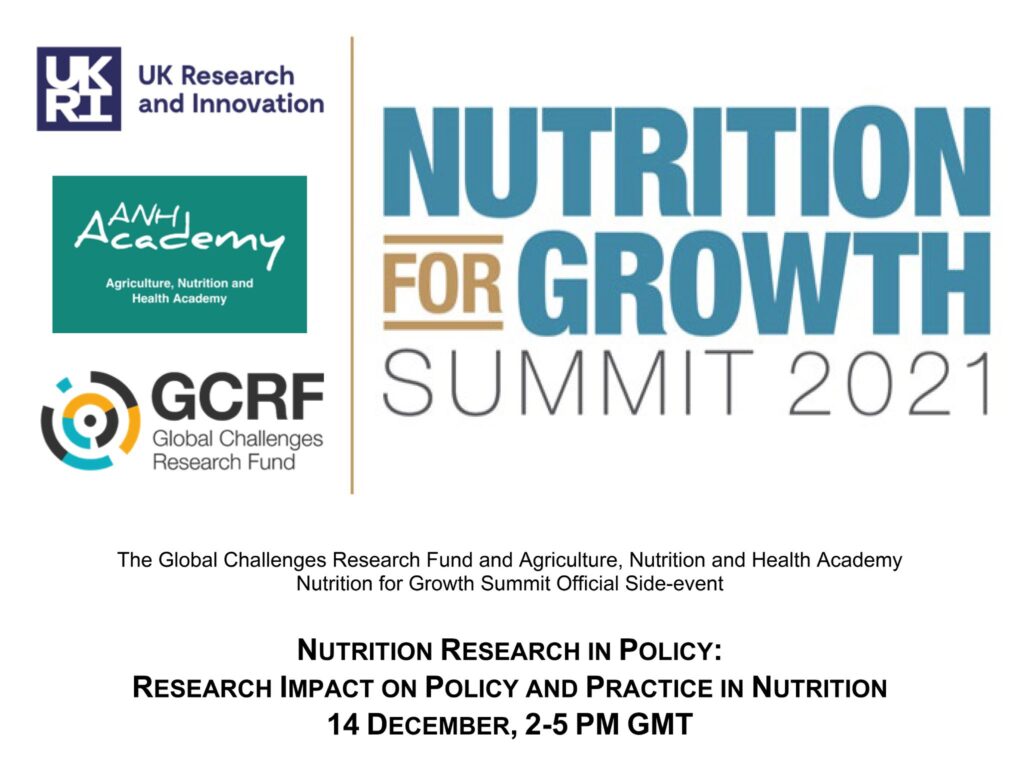 The Nutrition for Growth Summit was held in Tokyo on 7-8th December 2021 to identify and discuss solutions to worldwide nutrition challenges as the world approaches the final decade of the Sustainable Development Goals.
A side event was held on the 14th December with the Global Challenges Research Fund, UK Research Initiative, and the ANH Academy to discuss what the constraints on food systems from climate change mean for global nutrition. The side event was also an opportunity for multiple stakeholder groups, such as academics and food business industry representatives, working on nutrition challenges to share the latest research findings on global nutrition concerns, and discuss future research needs and how this could impact policy. Enhancing relationships between stakeholder groups aims to better long-term learning and create a stronger, more agile food systems research and policy community.
Prof Sandy Thomas, Director of the Global Panel on Agriculture and Food Systems for Nutrition, and Prof Patrick Webb, Technical Consultant to the Panel, both participated in the side event. Sandy discussed how our recently published Policy Tool could help towards the aims of the meeting. The Policy Tool is aimed specifically at policy officials and executives (primarily in low and middle-income countries) to help connect high-level policy decisions with on-the-ground interventions across food, agriculture, nutrition and health, using a food systems approach.