Uganda's Prime Minister leads decision-makers to agree on actions in agriculture for nutrition at Global Panel-African Union high-level meeting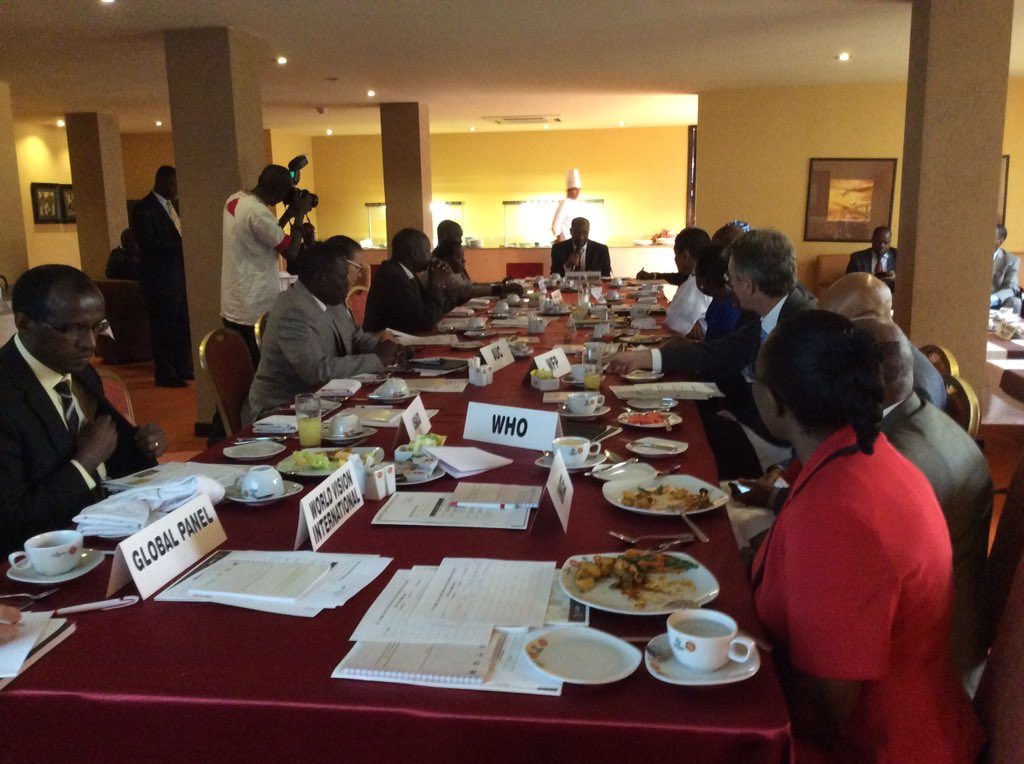 28 October 2015, KAMPALA  – The African continent is suffering from the burden of malnutrition. A reported 58 million children under the age of five are too short for their age (stunted) and 13.9 million weigh too little for their age (wasted). On the other hand, 10.3 million children in the same age group are overweight. Governments across Africa have made pledges to address this double burden of malnutrition, but a lot still remains to be done to ensure good nutrition for all. 
Against this backdrop, the Ugandan Prime Minister Honourable Dr. Ruhakana Rugunda presided over a high-level meeting organised jointly by the African Union Commission and Global Panel on Agriculture and Food Systems for Nutrition. The breakfast meeting brought together policymakers, international organisations and civil society representatives in Kampala, as part of events leading up to the commemoration of the 6th Africa Day for Food and Nutrition Security. 
The meeting examined the initiatives of the AUC and Global Panel in linking agriculture policies to nutrition outcomes, and stimulated discussion around key policy actions in agriculture and other sectors to improve nutrition in Africa. 
The meeting had been requested by AUC Commissioner for Rural economy and Agriculture, H.E Rhoda Peace Tumusiime in her capacity as member of the Global Panel on Agriculture and Food Systems for Nutrition. The Commissioner's representative, Dr Josue Dione, addressed the gathering reminding everyone present of the commitments taken by African Heads of State to improve nutrition and reduce stunting and wasting, as part of the 'Malabo Declaration on Accelerated Africa Agricultural Growth and Transformation for Shared Prosperity and Improved Livelihoods.'
Prof. Jeff Waage, Technical Advisor to the Global Panel, followed with a presentation highlighting how food systems policies interact and how they all affect nutrition. 
Prime Minister Rugunda, led a discussion on three key areas for action brought into focus by the Global Panel and the African Union Commission:
1) Mainstreaming nutrition issues in African national agriculture and food security investment plans,
2) Developing national systems for measuring and monitoring diets and nutritional outcomes to assess policy impact,
3) Adopting a cross-sectoral approach to ensure that agriculture policies for improved nutrition are complemented and supported by policies relating to trade, markets, consumer education and social protection. 
During an open discussion, participants of the meeting, representing government departments, UN agencies, and civil society, endorsed the three priorities and called for the commitments to be translated into action. 
In conclusion, the Prime Minister reminded the decision-makers present in the room that policies must lead to real impact for communities across Africa, in particular women and children. 
Read more about the Global Panel events in Kampala