Covid-19, Food Systems and Nutrition: Statement from our Co-Chairs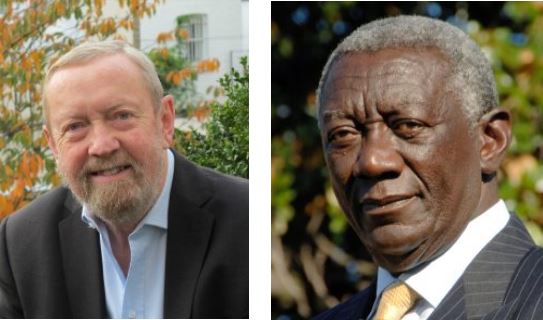 In these challenging times, our thoughts are with those across the world who are working tirelessly to contain the Coronavirus outbreak, with those who have lost family members and friends, and all whose livelihoods are threatened.
The unprecedented COVID-19 pandemic has brought the fragility of food systems even more sharply into focus. It shows how low- and middle-income countries are particularly vulnerable to shocks that affect health and food supply systems, threatening individual livelihoods as well as entire economies.
Even before the current global crisis, our food systems were already failing to ensure a healthy diet for billions of people. Travel restrictions, enforced business closures, social distancing and the loss of income is quickly proving to be a huge new burden for the poorest and most vulnerable families, who already lack purchasing power. For far too many people, nutritious and affordable foods are now even further out of reach than they were just a few months ago. In higher income countries there are concerns about how the pandemic is contributing to overweight and diet-related diseases, as some individuals consume more low-quality foods and exercise even less than before. In the rest of the world, the impact on diets through stalled food trade, higher prices and collapsing purchasing power will likely create a spike in all forms of undernutrition, including vitamin and mineral deficiencies.
During the global food price spikes of 2007/8 and 2011/12, poorer households responded by reducing purchases of nutritious foods, whilst prioritising the consumption of lower quality staple foods. Children, adolescent girls and pregnant mothers saw their nutrition and health compromised, leading to long-lasting impacts on their future growth, mental development and productivity. This will happen again without immediate and effective government action.
We must act with urgency to support the most vulnerable in low- and middle-income countries to prevent this still-evolving pandemic, and the ensuing economic crisis, from exacerbating the current global malnutrition crisis. Small-scale farmers will be impacted by a lack of access to agricultural inputs as supply chains shift to supporting essential medical resources. Food companies and food services in urban areas will face challenges as demand for many products drops and restaurants remain closed. Many food retail outlets will survive, especially those able to manage online orders and delivery, but the challenge of supporting and protecting staff is enormous.
As of 3rd April, the World Bank has reported that 106 countries have introduced or expanded various social protection and employment interventions in response to COVID-19, involving almost over 400 programmes. This rapid response shows what is possible even in the context of a pandemic with forced social and economic shutdowns. The most common actions include targeted cash-transfers, childcare support, expanded pension benefits and the postponement or waiver of certain loan or financial obligations. Fifteen of the 84 countries introducing such actions were low- and middle-income nations, but none were the lowest income countries.
In the immediate and short term, wealthy nations should support resource-constrained countries wherever they can to protect and enhance diets of lowest income consumers. The huge stimulus packages in high-income countries should be used in part to promote greater, rather than reduced, access to nutritious foods for all, while avoiding where possible import shifts that would constrain food availability in lower income countries. All nations should openly commit to facilitating a smooth flow of domestic and international food supplies to prevent a return to the food price volatility experienced just a decade ago.
In the medium to longer term, world leaders need to work with civil society and the private sector to rebuild our food systems and to facilitate their transition to be more resilient, more equitable and more sustainable. A failure to act will degrade our food systems, our health and the planet.
The Secretariat and Members of the Global Panel will continue to work remotely and support governments in low- and middle-income countries to address the serious policy challenges that the pandemic will present to our food systems, by providing evidence-based advice and recommendations. The Panel's upcoming Foresight 2.0 Report, to be published in autumn, will offer practical policy solutions to promote the transformation of food systems to make higher quality diets more available, accessible, affordable, desirable and environmentally sustainable, in the wake of this global crisis.
We are seeing how humanity can come together to deliver a united response to the Coronavirus outbreak. Scientists and healthcare professionals from across the world are collaborating to better understand and combat this new disease. Millions of people are working throughout food supply systems to ensure that shelves and markets continue to be stocked with food. Many more are striving to maintain essential services and protecting those most at risk.
It is crucial that we all act in an equitable manner so that wealthier nations are mindful of the need to protect the most vulnerable. It is critically important for governments from high-income countries to protect access by low- and middle-income nations to the food they need. Working across borders, guided by the science and evidence, barriers to food trade should be eschewed, hoarding discouraged, and food export bans avoided. This is a time to build stronger food systems for all, and not leave some people even more vulnerable than before.
We call on governments and world leaders to ensure that economic stimulus packages and actions to combat this pandemic include plans to ensure nutritious foods are made available and affordable to all. There are major social and economic benefits to healthy diets. Governments must work with civil society and the private sector, to prioritise policies that will rebuild our food systems, so they are stronger, more resilient and more sustainable, promoting both human and planetary health.
The Global Panel on Agriculture and Food Systems for Nutrition