African Leaders for Nutrition – High Level Event with Heads of State at the African Union Summit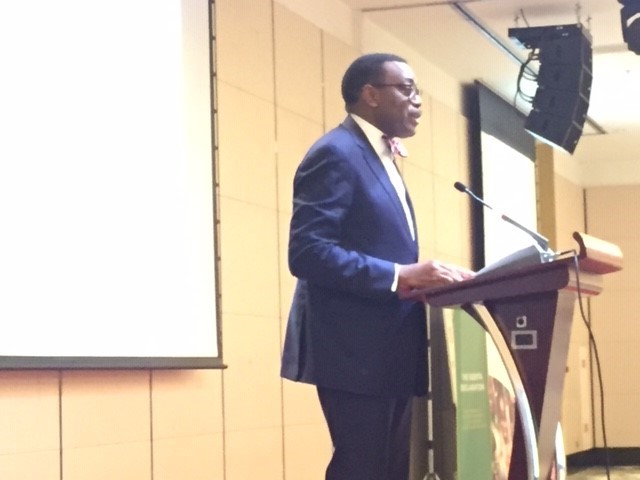 On the 8th February, Director of the Global Panel, Prof Sandy Thomas attended the African Leaders for Nutrition (ALN) meeting at the 33rd African Union Summit in Addis Ababa. The meeting was hosted by AfDB President and Global Panel Member, Dr Akinwumi Adesina, and attended by Heads of State, national ministers of health and key nutrition partners. They included ALN Leaders HE Alassane Ouattara, President of the Republic of Côte d'Ivoire, HE Andry Rajoelina, Président of the Democratic Republic of Madagascar, HE Julius Maada Bio, President of the Republic of Sierra Leone, and HE Fatima Maada Bio, First Lady of Sierra Leone.
It was at a Global Panel Meeting in Accra, in 2015, that Global Panel Co-Chair, H.E. John A Kufuor, Former President of Ghana, and Panel Member and AfDB President, Dr Akinwumi Adesina, called for the creation of this high-level body, the ALN. At the event, Prof Thomas extended her congratulations to ALN for on their ambition and offered the Global Panel's support to its Champions to reach out to the Global Panel for support.
The event highlighted the shared vision of ALN Champions and Heads of State to address malnutrition across the continent. It celebrated progress across Africa against the UN's 2025 targets including a reduction in stunting by 8% and making progress against targets for exclusive breastfeeding. Yet despite progress, there is still a long way to go in tackling the triple burden of disease.  39 % of the world's stunted children and 28 % of the world's wasted children live in Africa, leading to premature death and inhibited intellectual and physical growth.
The meeting provided an opportunity for leaders to develop a shared understanding and roadmap towards nutrition targets in light of the upcoming Nutrition for Growth Summit in Tokyo in December this year. N4G 2020 offers an exceptional opportunity for ALN Champions to demonstrate their commitments towards food system action plans and the adoption of multi-sectoral approaches to tackling malnutrition.
Through the high-level advocacy work of Dr Akinwumi Adesina and other Panel members, we are already seeing increasing political commitment on nutrition across many African countries. The ALN and its high-calibre Champions have a unique opportunity not just to create nutrition leadership in Africa, but to make Africa a continent of global leaders for food systems and nutrition.