UK launch – Foresight Report with APPG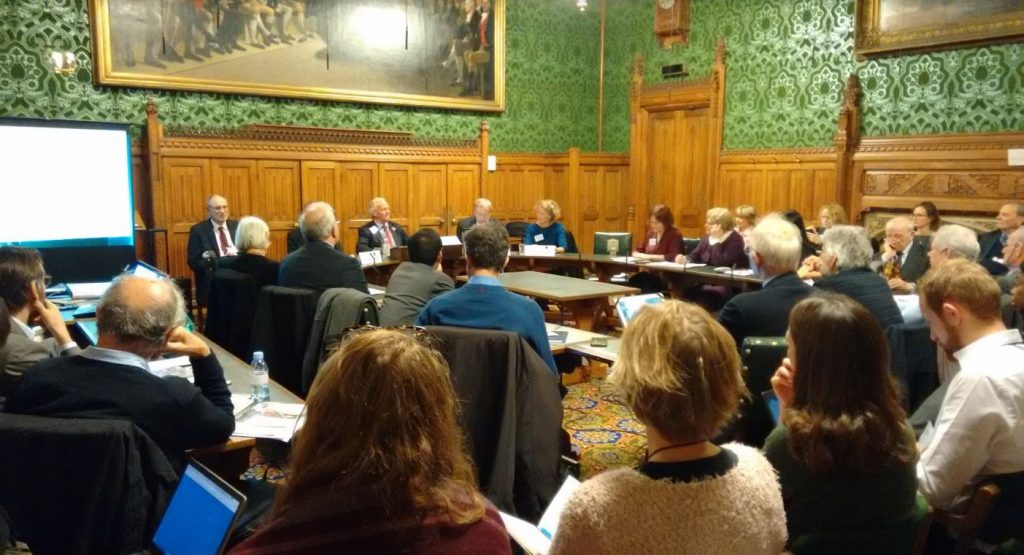 Wednesday, 2 November 2016, 6-8PM
House of Commons – Committee Room 6
The Global Panel, together with the All-Party Parliamentary Group on Agriculture and Food for Development organised the UK launch of the Global Panel's Foresight report: Food systems and diets: Facing the challenges of the 21st century.
Speakers included:
Lord Cameron of Dillington, Co-Chair of the APPG on Agriculture & Food for Development
Sir John Beddington, Co-Chair of the Global Panel; Former UK Chief Scientific Advisor
Prof Charlotte Watts, Chief Scientific Advisor, UK Department for International Development (DfID)
Prof Jeff Waage, Former Director of the London International Development Centre and Technical Adviser to the Global Panel
Dr Lawrence Haddad, Chair of the Global Panel's Foresight Lead Expert Group (LEG); Executive Director of the Global Alliance for Improved Nutrition (GAIN)
The worldwide burden of undernutrition (stunting and low weight) and obesity is equivalent to that of experiencing a global financial crisis every year. An estimated 3 billion people across 193 countries have low-quality diets which contribute to poor nutrition and health outcomes, while also slowing economic development.
 Food Systems and Diets: Facing the Challenges of the 21st Century
 outlines the toll that malnutrition takes on individuals, nations and economies today, and forecasts the expanding costs and consequences if these trends continue. The report provides a critical guide to governments and decision-makers on the action and investment required to create food systems that promote health and deliver quality diets.
"Our food systems are failing us," says Lawrence Haddad, author and chair of the project's Lead Expert Group. "If current trends continue, one in two people will suffer from malnutrition in 2050. Now is the time to take action to ensure that food systems and nutrition are helping to fuel development – not hold it back."
To expand on this vital insight into global food systems and future nutrition challenges, we are delighted to bring together a distinguished panel of speakers for this informal evening, and look forward to sharing our work with our UK colleagues.
Enhancing the ability of food systems to deliver high quality diets is a choice that is well within the grasp of policymakers. It is a choice that will help achieve the SDG goal of ending malnutrition in all its forms by 2030. H.E. John Kufuor, former President of Ghana and co-chair of the Global Panel says:
"If we do not reshape food systems to prioritise nutrition, we are missing an opportunity to create a stronger, healthier and more prosperous future."
Read the blog by Prof Charlotte Watts, Chief Scientific Advisor and Director of Research and Evidence, DFID