Super foods: from the lab to the table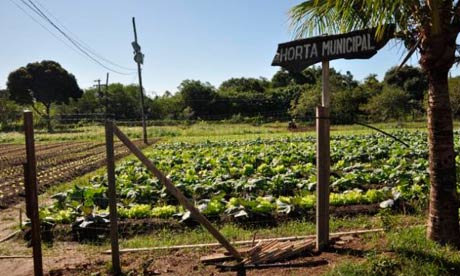 This article was originally posted on theguardian.com by Mahabub Hossain.
Over the past 50 years, agricultural research has improved crop yields, particularly of staples like cereals and tubers. But this breeding has placed too little emphasis on nutrition, leaving the poorest, who often can only afford these staples, consuming too few essential nutrients like iron, zinc and vitamin A.
Biofortification can help redress the balance. But one of the concerns about this technology has been whether these crops, bred to have increased levels of vitamins and minerals, will be attractive to farmers or not. They must yield well, so that farmer incomes from sale of their crops are maintained or improved, and they must have properties that make them attractive for cooking and eating. The evidence is that crops that have been bred for improved micronutrients yield as well, or better than crops currently grown by farmers and are attractive.
One of the best documented biofortified crops, an orange fleshed variety of sweet potato, which addresses vitamin A deficiencies, has had extensive adoption in Mozambique and Uganda, showing that a change in colour and texture relative to traditional white African sweet potatoes may not be a constraint. A single scoop of cooked orange sweet potato can provide a small child's entire daily requirement for vitamin A.
Rwanda, along with a few other African countries, is making a commitment at the highest political level to biofortification, integrating agriculture, health and rural development programmes to deliver this, with outstanding results. Production of beans, a Rwandan staple, bred for high levels of iron, has been taken up within just two years by 700,000 farming households. But biofortification is being successfully trialled now throughout the world, in maize, cassava, sweet potatoes, millet, rice, wheat and other crops.
However, increasing the availability of nutrient rich crops to subsistence farmers who also consume what they produce is only a part of the potential of biofortification. With a rapidly urbanising world and growing problems with micronutrient deficiencies in urban populations, locally grown biofortified crops need to become deeply embedded in food chains, in food processing and in markets, in order to reach urban consumers.
That means engagement with the private sector and markets, and a whole new challenge for effective partnerships of researchers and entrepreneurs. Governments can provide an important stimulus to demand, for instance by giving incentives to companies that use biofortified ingredients in processed foods. At the second international conference on biofortification held this April in Rwanda, Nigeria's minister of agriculture and rural development, Akinwumi Adesina, called on governments to provide tax incentives to companies who incorporate biofortified crops into their value chainsand use price incentives and farm subsidies to scale up the production of nutrient-rich crops. He also called for costs of developing biofortified crops to be lowered, and intellectual property rights supporting the development of nutrient rich crops to be enforced.
Efforts should also be made to develop nutrition education programmes for consumers – including farmer training for poor households which are both producers and consumers – as well as marketing and nutrition awareness training to drive consumer demand. Adesina recommended that governments must focus on improving the technology delivery systems for farmers, especially extension systems to improve farmers' knowledge of nutrient rich crops and, initiate marketing and nutrition awareness training is needed to drive consumer demand.
Biofortified crops are part of a rich and growing portfolio of agricultural and food interventions to improve nutrition in poor countries, including the encouragement of local livestock and fish production and marketing, home gardens for vegetable production, and programmes to supply cows and goats to households for milk production. As Rachel Kyte, vice president of the World Bank put it, it is no longer a question of "why would you grow biofortified crops" but "why wouldn't you?"
Mahabub Hossain is former executive director of Brac and a member of the Global Panel on Agriculture and Food Systems for Nutrition. Follow @Glo_PAN on Twitter