Resources from the Biofortification policy brief launch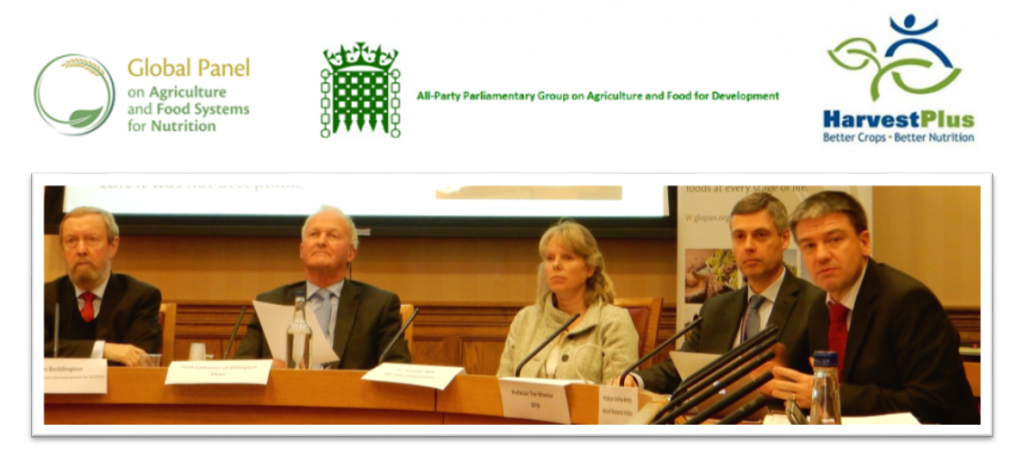 Lord Cameron of Dillington, Chair of the All-Party Parliamentary Group on Agriculture and Food for Development welcomed all attendees and introduced all speakers. He mentioned that there has been an interesting shift in research in the past few years where the focus has moved from resilience of yields to nutrition per hectare. The topic of this evening 'biofortification' is a good example of that.  
Tim Wheeler, Deputy Chief Scientific Adviser at the UK Department for International Development welcomed the new policy brief on biofortification. He said it places biofortification initiatives in the reign of complementary approaches to reduce micronutrient deficiencies.
He felt that this policy brief is an excellent example of international research and evidence and he emphasised four points that are important for this evidence in biofortification: 1) Relevance of systematic reviews 2) Continue to develop innovation in biofortified crops 3) Collect evidence on the role of other nutrition initiatives (biofortified crops is one of the options) 4) Share the evidence of biofortification with other policy makers.
Sir John Beddington, Global Panel Co-Chair, introduced the newly launched policy brief on biofortification. He said that the demand for nutritious food is on the increase and we need to recognise increasing pressures such as climate change, population growth and urbanisation. Biofortification represents one approach to tackle widespread micronutrient deficiency or "hidden hunger" by enhancing the availability of vitamins and minerals for nutritionally vulnerable people. It is however not a silver bullet and biofortification should complement the existing mix of micronutrient interventions available to governments.
Howarth Bouis, Director, HarvestPlus provided an overview of the progress made on biofortification. The current focus of biofortified crops is currently on low income malnourished communities where many of the undernourished live. However, biofortified crops will also supply micronutrients to urban populations through the food chain. Howdy also mentioned the importance of empowering female farmers. He then went on to the 9 focus countries of HarvestPlus, now reaching more than 2 million farming households. HarvestPlus is now at a turning point, looking at deploying globally and working across sectors and partners to integrate biofortified crops into policies and systems.
He showed a video where policy makers share their view on biofortification.
Andrew Westby, Director, National Resource Institute focussed on the uptake and implementation of biofortified crops. He provided examples of orange flesh sweet potatoes in Uganda, orange maize in Zambia and iron beans in Rwanda. Acceptance of biofortified crops is often related to socio-economic factors and location. His overall conclusion was that visible trait is not a barrier to acceptance and helps to brand the consumers. Invisible traits of high iron beans is not a barrier either.
Janneke Balk, Project Leader, The John Innes Centre looked at the Scientific opportunities and challenges of biofortification, specifically for iron and zinc. She mentioned that we do have good knowledge of how plants, genes, and breeding technique work. Unfortunately we also still have important knowledge gaps. It takes about 10 to 15 years for a biofortified crop to go to the market, so we need sustained investment in research to tap into the potential of biofortification.
Presentation by Howarth Bouis, Director, HarvestPlus: Biofortification in action
Presentation by Andrew Westby, Director, Natural Resources Institute (University of Greenwich): Experience in uptake and implementation of biofortified crops
Presentation by Janneke Balk, Project Leader, The John Innes Centre: Scientific opportunities and challenges of biofortification