Positioning food systems to deliver healthy diets for all in Uganda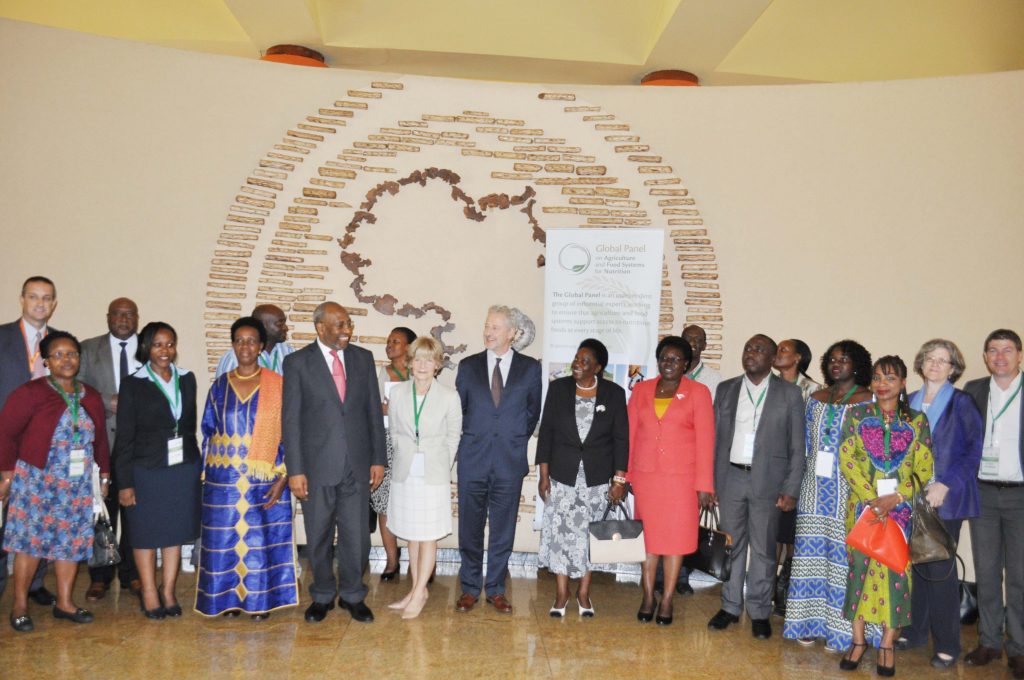 The productive series of meetings provided new ways of thinking around food systems and diets. A great deal has already been achieved in Uganda on food and nutrition security in recent decades, but, as with many other countries, more remains to be done. Growing pressures on the food system from climate change, environmental degradation, urbanisation and population growth, are driving multiple malnutrition burdens.  For example, overweight and obesity in women has increased to 24% and, the incidence of associated non-communicable diseases is rising inexorably. At the same time despite excellent progress in reducing stunting, it remains at 29%.
At the High Level Roundtable, Prime Minister of the Republic of Uganda, Rt. Hon. Ruhakana Rugunda, together with Global Panel Co-Chair H.E John Kufuor, Global Panel member H.E. Rhoda Peace Tumusiime, ministerial colleagues and other stakeholders agreed a series of actions. These included:
Consider the development of a "Task Force" to drive forward the changes required to accelerate progress on dietary change with a a multi-sectoral approach.
Use the UN Decade for Action on Nutrition to provide a context and opportunity for Uganda to take the lead as a regional food hub or on a specific policy area.
To support of these actions, there was also agreement to:
Develop innovative new ways of thinking which go beyond conventional ideas and support a holistic approach to delivering healthy diets and nutrition for all.
Create a "national conversation" on diet and nutrition and the creation of national "nutrition champions" to help develop and implement Uganda's new National Action Plan.
Work with the private sector and take advantage of Uganda's leading position in technological innovation, notably in the development and marketing of safer and healthier food options and in reducing loss and wastage throughout the food system.
Use the Global Panel's evidence and recommendations to intensify stakeholder interest and to sensitise politicians, legislators, budget holders and other decision makers.
Examine how to use public and private sector investment in research and knowledge sharing to improving diets.
Build on the localism agenda, e.g.  explore the use of kitchen gardens, the role of schools and education on the composition of healthy diets and cooking methods.
At the associated technical meeting, the Cabinet Minister for General Affairs in Uganda, Hon. Mary Karooro Okurut noted that the issue of diet and nutrition is regarded very seriously by the Office of the Prime Minister (OPM). The OPM welcomes the development of a strong public voice and advocacy on the matter. She also talked of the need for public awareness to raise issues, such as food safety, as part of routine conversation at all levels of society and the important role that media to play.
Attendees at the meetings included:
Rt. Hon. Ruhakana Rugunda, Prime Minister of the Republic of Uganda.
H.E. Rhoda Peace Tumusiime, Global Panel member and Former Commissioner for Rural Economy and Agriculture at the African Union Commission.
Hon. Mary Karooro Okurut, Cabinet Minister in Charge for General Duties in the Office of the Prime Minister.
Hon. Grace Kwiyucwiny, State Minister for Northern Uganda.
Christopher Kibanzanga, State Minister at Ministry of Agriculture, Animal Industry & Fisheries (MAAIF)
Richard Baguma, Chairperson of the Uganda Health Communication Alliance.
Dr. Margaret Kabahenda, Senior Lecturer/Nutritionist, Makerere University.
Dr. Dorothy Nakimbugwe, Assoc. Professor in the Department of Food Technology & Nutrition at Makerere University & Founding Director for Nutreal Limited.
Francesca Stidston, Acting Head of DFID, Uganda.
Beatrice Okello, Senior Programme Officer, FAO.
Mahoua Parums, Deputy Representative and UNHCR.
Sylvia Magezi, County Manager and Harvest Plus (IFPRI).
Ryan Anderson, Deputy Country Director at WFP.
Brenda K. Muwanga, Uganda Programme Coordinator at the Eleanor Crook Foundation.
Sophie Nattabi and Daniel Wasswa Nsubuga, East African Basic Foods.
Brett Rierson, of Head Global Post-Harvest Knowledge and Operations at WFP.
John Mateeka, Major General at Operation Wealth Creation.
Prof. Patrick Webb, Technical Adviser at the Global Panel.
Prof. Sandy Thomas, Director of the Global Panel.
H.E John Kufuor, Former President of Ghana and Co-Chair of the Global Panel who will provide a closing message via a video link