African launch of the Global Panel's brief Preventing nutrient loss and waste across the food system 13 November 2018, Kampala, Uganda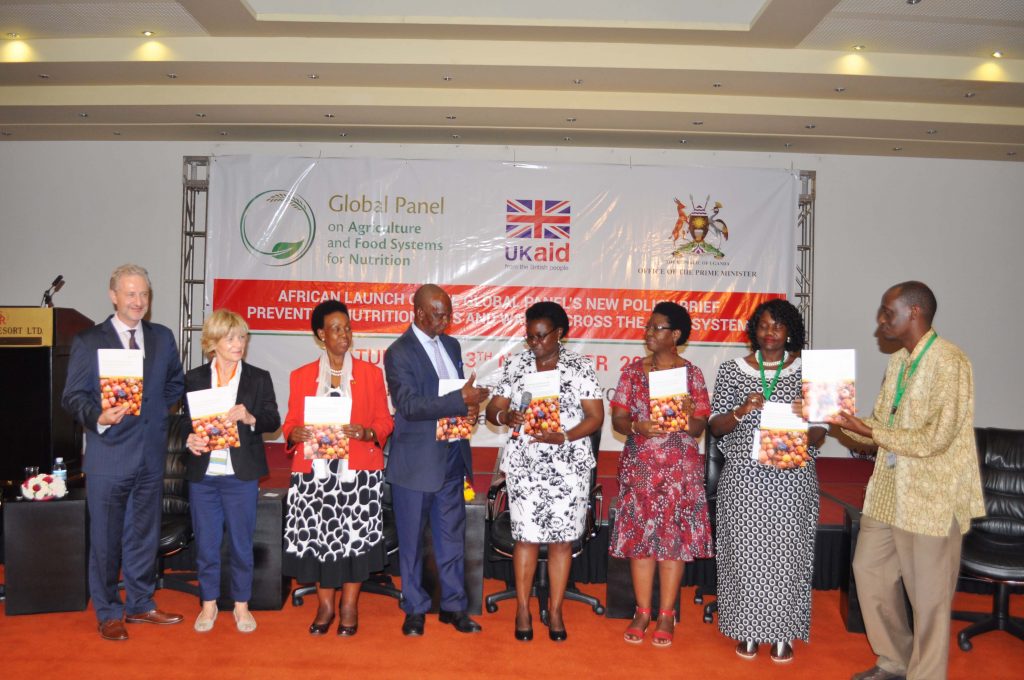 The African launch of the Global Panel's fifteenth brief was attended by:
Hon. Mary Karooro Okurut, Cabinet Minister in Charge for General Duties in the Office of the Prime Minister;
Hon. Grace Freedom Kwiyucwiny, State Minister for Northern Uganda;
Dr. Wilberforce Kisamba-Mugerwa, Director of Research, NARO;
H.E. Rhoda Peace Tumusiime, Global Panel member and Former Commissioner for Rural Economy and Agriculture at the African Union Commission;
Beatrice Okello, Senior Programme Office at FAO;
Dr. Dorothy Nakimbugwe, Assoc. Professor in the Department of Food Technology & Nutrition at Makerere University & Founding Director for Nutreal Limited; and
Professor Patrck Webb, Technical Adviser at the Global Panel.
Mr Baguma Richard, Chair of the Uganda Health Communication Alliance, moderated the session.
The discussions revealed how many aspects of food loss (mainly through agricultural production) and wastage (mainly in retail and consumers) are "invisible" and not addressed by policy. Also, that this loss and waste typically occurs more often in nutrient rich foods. There was also a consensus agreement for better co-ordination and strategic planning across government and in districts. It was suggested that a new "action plan" to scale up nutrition and improve the lives of people could be established to drive this.
During discussions, Panellists also called for:
Better research, evidence and data to help frame effective policy and interventions.
Strengthened public-private partnerships.
Financial measures, including tax breaks and investment in markets.
Prioritising the diets of women, adolescents and children
Leadership and coordination across all sectors of society, notably policymakers, advocacy organisations, private sector, local government and schools.
Empowering SMEs to operate in better functioning markets.
A regulatory framework that balances healthy food choices with business profit. As well as a system to implement and enforce these regulations.
Better understanding of the exact entry points for intervention.
More innovative interventions, for example the establishment of a "Technopreneurship".
Recognising the role of the 8.9 million smallholder farmers, each with less than 5 acres, who provide 90% of Uganda's food.
Developing ways in which discarded food might be used in ways to benefit communities, for example as animal feed, compost and energy generation.
Hon. Mary Karooro Okurut concluded the session by noting that food loss and waste reduction in Uganda must innovate and scale-up successful local actions, calling for "a more detailed understanding of the food system and nutrition".  She added that "Co-ordination is in place however, it needs strengthening in specific areas".