Launch of the Panel's first technical brief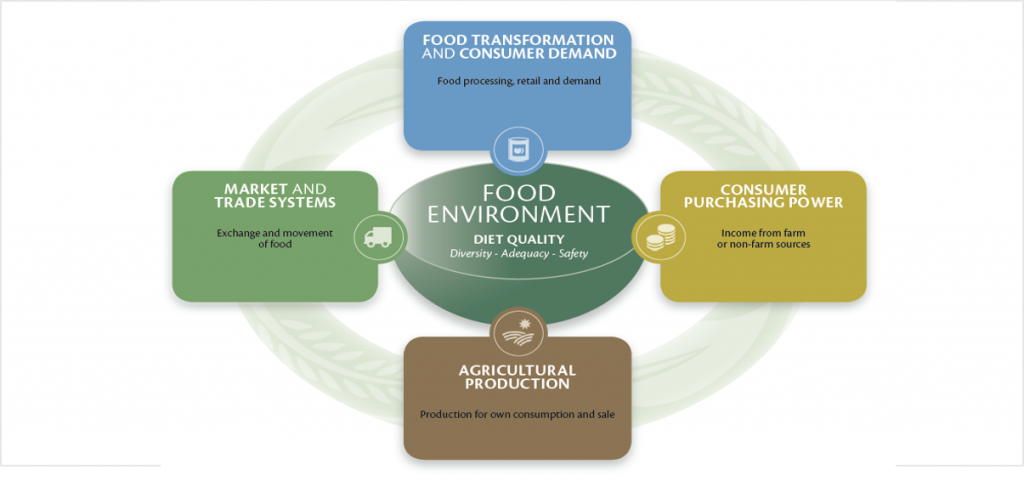 The multiple burdens on health created today for low and middle income countries by food-related nutrition problems include not only persistent undernutrition and stunting, but widespread vitamin and mineral deficiencies and growing prevalence of overweight, obesity and non-communicable diseases. These different forms of malnutrition limit people's opportunity to live healthy and productive lives and impede the growth of economies and whole societies.
The traditional view that improving agricultural productivity will improve nutritional security is no longer tenable. Nor can nutrition-specific interventions or social protection programmes provide long term and sustainable nutrition for those most in need. More food is needed, and these specific interventions can help, but much more needs to be done to ensure that countries have agriculture and food systems that support a food environment that delivers healthy, diverse diets and supports nutrition outcomes.
The food environment from which consumers should be able to create healthy diets is influenced by four domains of economic activity:
agricultural production
markets and trade systems 
consumer purchasing power   
food transformation and consumer demand
In each of these domains, there are a range of policies that can have enormous influence on the nutritional outcomes. In this technical brief, we explain how these policies can influence nutrition, positively and negatively. We make an argument for an integrated approach, drawing on policies from across these domains, and the need for more empirical evidence to identify successful approaches.
This technical brief is accompanied by a policy summary, which captures its main points. Together, they represent the first of a range of outputs from the Global Panel on Agriculture and Food Systems for Nutrition, designed to guide decision-makers, particularly governments, on how to generate nutrition-enhancing agricultural and food policy and investment in low and middle income countries.
 Download the Technical Brief 
 Download the Summary Brief
 Watch the animated video