Cross-sectoral leadership for healthy diets & nutrition in Ghana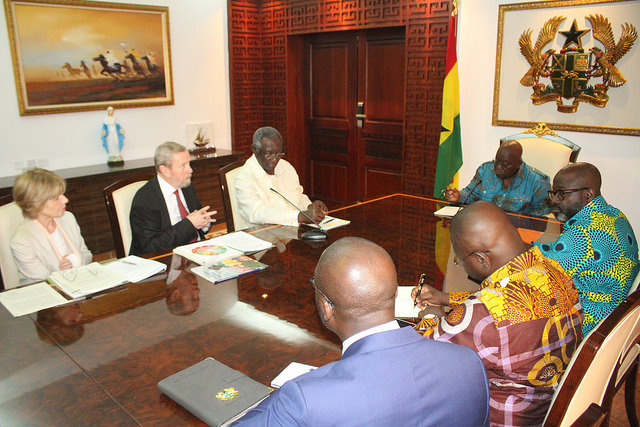 Ghana has achieved much in recent years to address undernutrition. Between 2003 and 2014, the prevalence of stunting among children under five fell from 35 per cent to 19 per cent. However, as many as 1.2 million Ghanaians are still considered food insecure, while the rate of obesity/overweight is rising, especially in the context of increasing urbanisation.
Over the last two years, the Global Panel has established links with policymakers, senior government officials and other stakeholders in Ghana to support the increase in priority accorded to nutrition and healthy diets. In the lead up to the launch of the African Leaders for Nutrition initiative at the AU Summit in Cote D'Ivoire (29 Jan 2018), the Global Panel and John A. Kufuor Foundation recently met with Ghana's new leadership and key decision-makers to provide support to Ghana's National Nutrition Policy. 
Co-Chairs meeting
Panel Co-Chair and Former President of Ghana, HE John Kufuor, welcomed Panel Co-Chair Sir John Beddington, Director Sandy Thomas and Deputy Director Ivan Kent to his residence. Staff from the Global Panel and the John Kufuor Foundation were also present at the event, including Prof Agyeman-Duah Baffour, Panel Representative and Chair of the John A. Kufuor Foundation. The group discussed the current activities of the Panel and its ongoing strategy to strengthen the impact of the global nutrition agenda.
High-Level Roundtable
Representatives of the government, private sector, and research community attended a High-Level Roundtable to identify national policy priorities for a well-functioning food system, and the provision of accessible, affordable and healthy diets.
In addition to looking at the changes that have taken place in Ghana since the previous Global Panel High-Level Roundtable in October 2016, the group heard presentations from Dr Richmond N. O. Aryeetey, Senior Lecturer, University of Ghana, School of Public Health, and Ms Mary Mpereh, Deputy Director, Development Policy Division, National Development Planning Commission, on the current context, priorities and opportunities for delivering healthy diets in Ghana.
Prof Sandy Thomas highlighted the role of some of the major drivers that are shifting food systems and diets including population growth, climate change and urbanisation while private sector representatives shared their own perspectives on the opportunities for investment in a transition towards healthier diets.
Briefings with Government officials
The Global Panel attended separate meetings with Hon. Otiko Afisa Djaba, Minister of Gender, Children and Social Protection, and Hon. George Boahen Oduro, Deputy Minister of Horticulture, to offer support for integrating nutrition into current Government policies.
The events concluded with a meeting with President Akufo-Addo where the Global Panel discussed the potential for mainstreaming nutrition initiatives to enable the country to achieve the Sustainable Development Goals. HE John Kufuor commented that "to develop humanity well, one must focus on nutrition." The Co-Chairs HE John A. Kufuor, Former President of Ghana, and Sir John Beddington, Former UK Chief Scientific Advisor, also brought forward the economic case for investment in nutrition, highlighting the benefits and opportunities for delivering healthy diets across all regions and social groups. 
The meeting revealed a high level of synergy between Government's objectives, and the Global Panel's ambition to promote healthy diets through evidence and leadership.