Agriculture Nutrition & Health Academy week research conference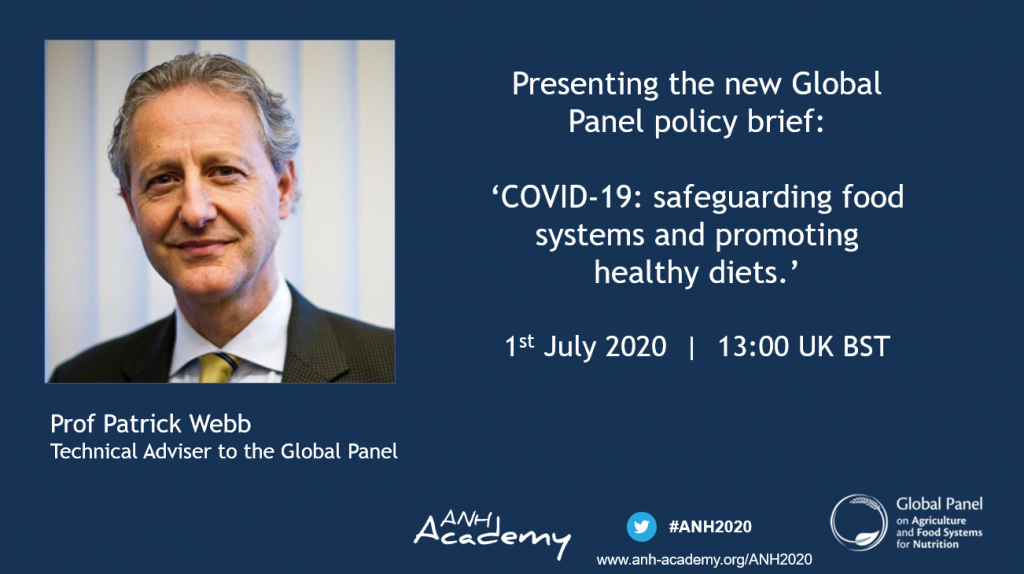 On Wednesday 1st July, the Global Panel will be participating in the ANH Academy Week research conference plenary discussion on COVID-19. Professor Patrick Webb, Technical Adviser to the Global Panel will present the new Global Panel policy brief 'COVID-19: safeguarding food systems and promoting healthy diets',  launched on 29th June.
Join us on 1st July, for registration click here
PLENARY DISCUSSION: AGRICULTURE, NUTRITION AND HEALTH IN THE TIME OF COVID-19: CHALLENGES AND PRIORITIES FOR RESEARCH AND PRACTICE
Wednesday 1 July: 08:00 New York / 12:00 Accra / 13:00 London / 14:00 Lilongwe / 15:00 Nairobi / 17:30 Delhi / 19:00 Jakarta
Duration: 75 mins
Moderator:
Richard Horton, The Lancet
 Speakers:
Gabrielle Berman, Ethics in Evidence Generation, UNICEF
Khadija Mitu, University of Chittagong, Bangladesh
Patrick Webb, Tufts University & Global Panel on Agriculture and food systems for nutrition
Sara Menker, Gro Intelligence
Background info
The Agriculture, Nutrition & Health Academy brings together researchers, practitioners and policymakers working for better nutrition and health through improved agriculture and food systems.
With members from over 100 countries, the ANH Academy is a global network and platform for sharing research and evidence, capacity strengthening and collaboration across diverse disciplines.  It is one of three workstreams of the IMMANA programme (Innovative Methods and Metrics for Agriculture and Nutrition Actions), which aims to improve nutrition and health by strengthening tools, capacity and evidence in agriculture and food systems research.