Positioning food systems to deliver healthy diets in Pakistan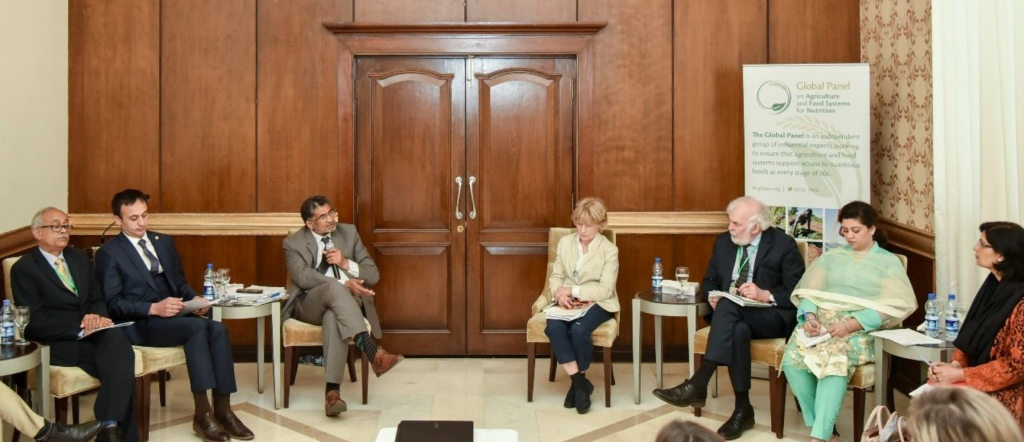 28 March 2019 – Today the Benazir Income Support Programme (BISP) and the Global Panel on Agriculture and Food Systems for Nutrition hosted a High-level Roundtable discussion with more than 30 senior stakeholders from across Government, international agencies, civil society and the private sector to inform a strategic approach to securing healthy diets in Pakistan and progress towards Pakistan's Vision 2025 and the Sustainable Development Goals. Among the attendees Senior Federal and Provincial Government stakeholders, private sector, civil society, academia, donor agencies and development partners. The roundtable was convened the day after the launch of "Ehsas", the government's new programme to promote equalities, which amongst other things centres on human capital development of which healthy diet is a core component.
In Pakistan, two out of three households cannot afford a nutritious diet. Malnutrition is estimated to cost the economy PKR 704.3 billion annually, equivalent to 3% of GDP. Achieving high-quality diets for all is critically important to deliver agricultural advancement, improve retail and trade, better education, social development and economic prosperity.
"Government has recently shown a renewed commitment to addressing malnutrition in the country, but a lot more needs to be done. Today's meeting intended to clarify responsibilities with regard to nutrition governance, and identify the mechanisms required to take this agenda forward", says Dr Sania Nishtar, Chairperson of the Poverty Alleviation and Coordination Council.
"An effective route to reducing malnutrition in Pakistan, which has the 9th highest rate of stunting in the world, is for policy leaders to identify actions that ensure that the food that make up healthy diets are widely available and affordable", says Tom Arnold, Global Panel Member and Chair of the Taskforce on Rural Africa.
"Fighting malnutrition is at the heart of the UK's work in Pakistan. DFID Pakistan is reaching millions of women and children through our food fortification initiatives across the country. But the real win is looking at food systems and it is great to see all stakeholders on the same page, addressing this complex challenge for a healthier and more productive population", said Head of DFID Pakistan Joanna Reid.
As part of the effort to improve diets, BISP and the Global Panel have also called to consider giving greater priority to avoiding the loss and waste of nutritious foods already being produced. A policy brief on nutrient loss and waste, presented at the meeting, points out that many of the foods that are critical components of healthy diets are also the most perishable. With over one third of fruits and vegetables lost or wasted before reaching our plates, reducing such loss would not just yield substantial benefits to diets and health, but for economies and the environment too.
An outcome of the event is a statement of intent in which ministers' experts and other stakeholders agreed on specific, actionable policy options within their spheres of influence to support the provision of safe, affordable, accessible and healthy diets. The statement of intent is available at glopan.org/Pakistan-nutrition-statement.
This is a clear sign of commitment within the country to ensuring the future of Pakistan is one where people have access to safe, affordable and healthy diets.