Kofi Annan pushes for food security and nutrition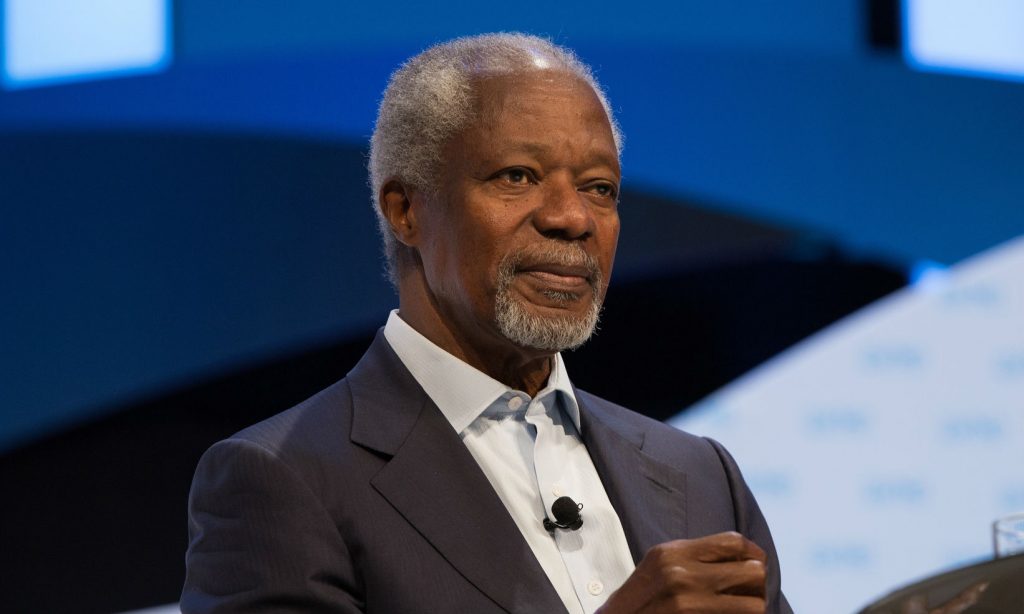 Article originally published in Ghana Web
Former Secretary-General of the United Nations, Kofi Annan, has indicated the need for African governments to take urgent policy actions backed by adequate budget allocation toward the creation of resilient food systems that will boost access to high-quality nutrition.
In a solidarity message on the occasion of the third annual meeting of the Global Panel on Agriculture and Food Systems for Nutrition in Accra, he said that improving food nutrition in a climate change era will require diverse, efficient and resilient food systems.
He said: "Food nutrition is not just about the amount of food we eat but the right type of food; considerable progress has been made on malnutrition in Africa, but there are new challenges happening along the way".
"To achieve food nutrition, growing more of the same staple crops will not be enough; we need agriculture to be climate and nutrition-smart. We must meet the needs of communities and nations in the shift of climate by opting for food systems that are diverse, efficient and resilient."
Mr. Annan said an estimated two percent growth in global agricultural output against the rapidly growing population size poses a threat to improved nutrition for proper health and development.
He said the situation will be worsened by the current climate change, which is expected to have a harsh impact on poor farmers — who have done least to cause the problem — because they lack the needed resources to adapt.
The Global Panel on Agriculture for Food Systems for Nutrition is an independent group of influential experts with a commitment to tackling global challenges in food nutrition and security.
Funded by the UK Department for International Development and the Bill and Melinda Gates Foundation, the panel works to ensure that agriculture and food systems support access to nutrition, and to stimulate a strong evidence-base for changes in agriculture to improve nutrition and increase access to healthy and sustainable diets.
Co-chair of the panel, John Agyekum-Kuffour, said malnutrition and under-nutrition remain a huge burden on developing countries and have become a social responsibility; and for that matter leadership must rally stakeholders to secure coherent and smart approaches to remove the canker.
"Even as we talk of necessity for agriculture in a period when the world's population is growing in leaps and bounds, scientists have shown that it is through nutrition that we have well-being.
"As we seek to improve agriculture and food systems, the central focus should be on food nutrition. And this what the Global Panel is set to work on," he said.
Mr. Kuffour called for an inter-sectorial collaboration approach toward the adoption of policies that centre on nutrition and food security.