Global Panel events in Bangladesh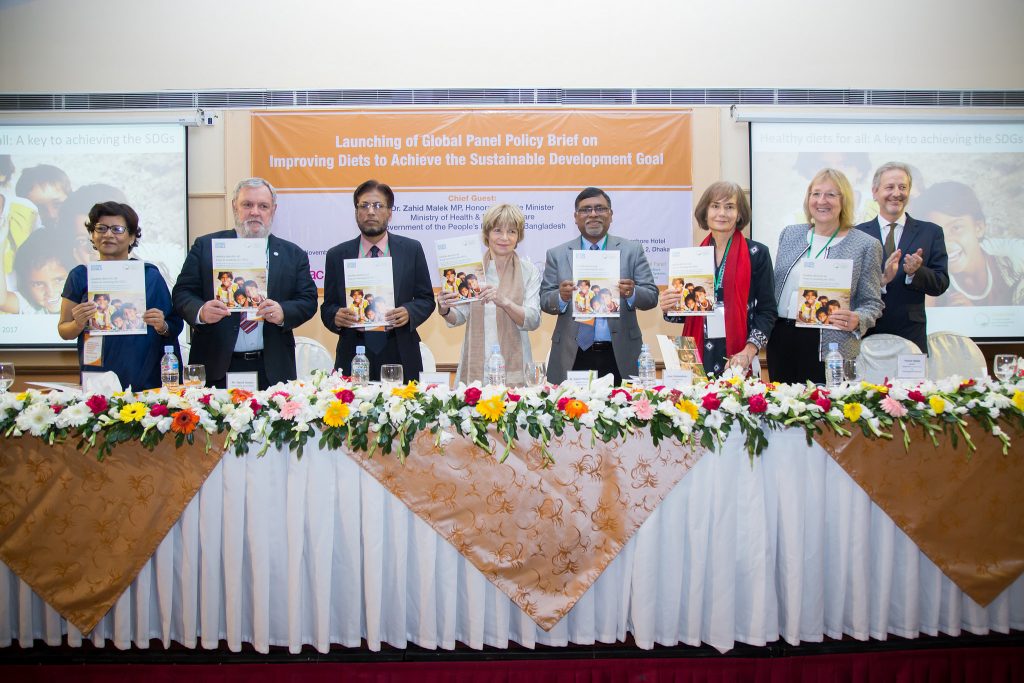 Day 1 – Launch of the Global Panel SDGs policy brief
Set against global and regional momentum to improve diets, the evening event brought together leading actors from across Bangladesh to share key findings from the Global Panel's new policy brief, Healthy Diets for All: A Key to meeting the SDGs, and to underscore the critical role that healthy diets and nutrition play in making progress towards the Sustainable Development Goals.
Dr. Kaosar Afsana, Director, Health, Nutrition & Population, BRAC, noted that despite a significant reduction of malnutrition in Bangladesh, from 55% in 1997 to 36% in 2014, access to affordable, diverse and high-quality diets remains one the most significant challenges for many households in the country.
Mr. David Doolan, Acting Country Representative, FAO, Bangladesh, applauded the brief as timely and topical, adding: "In this era of opportunity and prosperity, the only acceptable level of hunger is zero hunger." Ms. Jane Edmondson, Head of DFID Bangladesh, also welcomed the brief and highlighted the links between good nutrition, cognitive development & economic growth and the importance of this to DFID's agenda.
The brief was well received by Bangladeshi Government representatives, including Mr. Muhammad Abdullah, Secretary, Ministry of Industries, and Dr. Zahid Malek MP, Honourable State Minister, Ministry of Health and Family Welfare, the Government of the People's Republic of Bangladesh. Dr. Malek urged all relevant ministries to improve nutrition and healthy diets for all, by adopting a multi-sectoral approach. He noted that despite progress, more needs to be done: "In 2014, Bangladesh reached Low-Middle Income Country status. Yet 45 million people still live in absolute poverty, 40 million suffer from food insecurity, 7.3 million children are stunted, and 70% of our diet is still cereal-based".
The brief was formally launched by Panel Member Emmy Simmons and Panel Technical Adviser Prof. Patrick Webb, and the audience included representatives from IFPRI, GAIN, HarvestPlus, LANSA, Care, Plan International, BMGF, EU Commission, FAO, UNICEF and GAC.
Day 2 – High-level roundtable meeting on improving diets to achieve the SDGs
The Global Panel and BRAC, in partnership with IFPRI, GAIN and PHFI, convened a meeting of leading actors in Bangladesh to explore how to build on recent progress against national targets to combat malnutrition in all its forms and to develop interventions that deliver high-quality diets. Participants considered how the evidence and recommendations set out in the Global Panel Foresight report Food systems and diets: Facing the challenges of the 21st century could inform current and future policy interventions to transform food systems.
The discussion, which touched on topics including research, trade, production and consumer behaviour, also highlighted the government's commitment to nutrition and existing policies and programmes that already aim to reduce micronutrient and calorie deficiency. Participants also noted the need to scale up interventions and investments that promote dietary diversity, and the urgency to accelerate action in order to achieve the SDGs in the face of challenges such as climate change, population growth and urbanization.
Multisector plans, such as those led by the Ministry of Health and Family Welfare which identify roles for up to 13 other ministries, demonstrate, in principle, Bangladesh's commitment to achieving nutrition for all and the realisation of the SDGs. These require new frameworks to monitor their efficacy and impact. Government representatives highlighted the need for development partners, NGOs, IGOs and other stakeholders to be sufficiently sensitised to ensure their engagement and support.
Attendees included:
Prof. Dr. M. A. Sattar Mandal, Former Vice Chancellor, Bangladesh Agricultural University, Mymensingh
Emmy Simmons, Global Panel Member 
Prof. Patrick Webb, Technical Adviser
Dr. Akhter Ahmed, Country Director, IFPRI
Dr. Shamsul Alam, Senior Secretary, Planning Commission
Prof. Dr. Shamsul Alam, Panning Commission
Dr. Md. Ruhul Amin Talukder, Ministry of Health and family welfare
Md. Taufiqul Alam, Ministry of Agriculture
Mr. Mesbah Uddin, Ministry of Local Government and Rural Development and Co-operative
Dr. Md. Khairul Bashar, Country Manager, Harvest Plus and CIAT
Dr. Lalita Bhattacharjee, Food Planning & Monitoring Unit (FPMU)
Mr. David Doolan, Acting Country Representative, FAO, Bangladesh
Dr. Simone Field,  Nutrition Advisor, DFID Bangladesh
Ms. Monique Beun, Head of Nutrition, World Food Programme, Bangladesh
Cait Unites, Nutrition Adviser, USAID Bangladesh
Day 3 – The SAPLING initiative
The South Asian Policy Leadership for Improved Nutrition and Growth (SAPLING) initiative aims to create a forum of representatives from across the region to help catalyse and sustain high-level political leadership and action on food systems, diets and nutrition.
On 21-22 November, participants from Bhutan, India and Nepal, as well as Dhaka-based actors engaged in regional nutrition and food systems work, came together to discuss the need for a regional framework to promote healthy diets and nutrition sensitive food systems across South Asia. Building on previous meetings held in New Delhi, India in 2016, the group identified key priorities and a plan of action to take the initiative forward. [Continue reading]