African agricultural leaders gather to "Seize the Moment" on malnutrition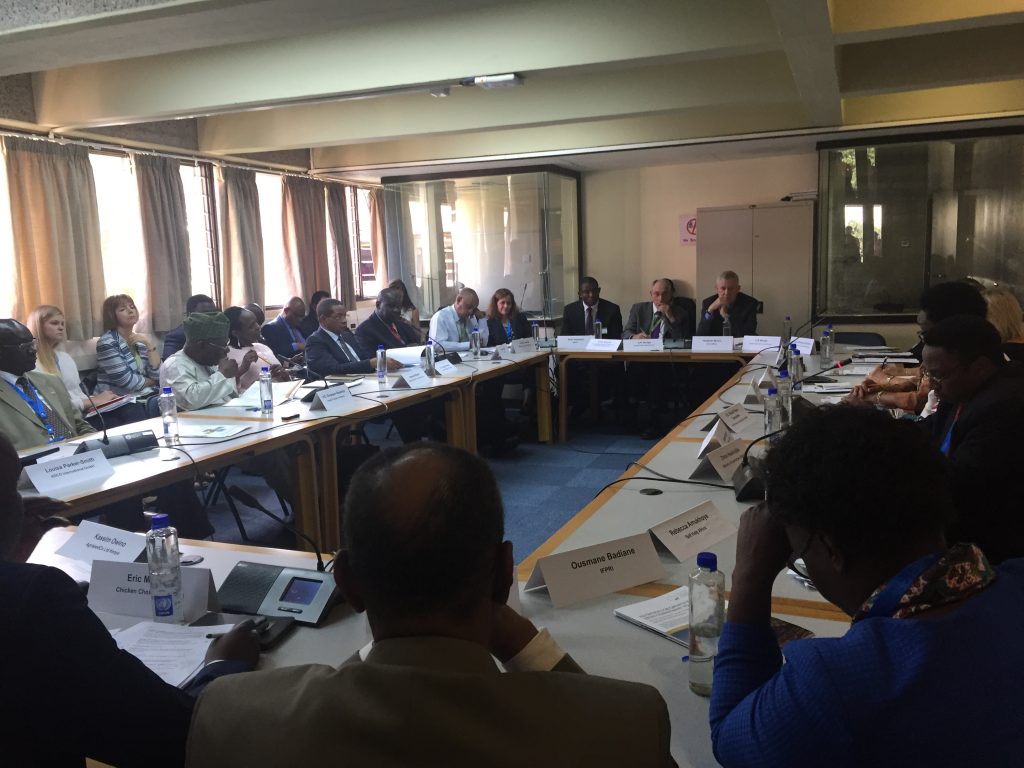 On Tuesday 6th September, as part of the 2016 African Green Revolution Forum in Nairobi, Kenya, the Global Panel on Agriculture and Food Systems for Nutrition, in partnership with the Alliance for a Green Revolution in Africa (AGRA), brought together leaders in agriculture, nutrition and health at a High-Level Roundtable meeting. The event focused on how Africa's agricultural community can achieve nutrition security through healthy diets.
Around 30 high level participants, including the former presidents of Nigeria H.E. Olesegun Obasanjo and Tanzania, H.E. Jakaya Kikwete, Commissioner for Rural Economy and Agriculture at the African Union, H.E. Rhoda Peace Tumusiime and representatives from the Ministries of Health and Agriculture in Ethiopia, Kenya, Ghana and Senegal, were welcomed to the event by AGRA President and Global Panel Member, Dr. Agnes Kalibata. "Investing in nutrition and agriculture is investing in Africa's future," stated Dr. Kalibata as she emphasised the theme of the 2016 AGRF Seize the moment: securing Africa's rise through agricultural transformation and the critical need for nutrition to be integrated into agricultural initiatives. She added, "To me, the brain matter development for any human being is determined on how it is nurtured from a young age, so nutrition must be the priority for all of us."
Malnutrition is a major issue across the world. In Africa alone, approximately 58 million children under the age of five years old are stunted, around 14 million are wasted and a further 10 million are overweight. Kenya is leading the way in Africa and is set to meet four out of the five World Health Assembly maternal and child nutrition targets. But more needs to be done. For example, 26% of Kenya's children under five years old are stunted, 25% of Kenyan women are anaemic, while rates of obesity and the associated non-communicable diseases are increasing rapidly.
"Decreasing stunting by 40% could save the equivalent of 83 billion US dollars," stated H. E. Rhoda Peace Tumusiime as she introduced the former Presidents of Nigeria and Tanzania to address the meeting. "Nutrition education is particularly critical," said H.E. Kikwete. "It is not that food is not there; feeding stomachs is not the same as providing nutritious food." He continued, "Nutrition does not currently get the attention it deserves."
Participants at the High Level Roundtable agreed that a 'business-as-usual' approach to agriculture and the agribusiness industry, will not result in the required nutritional outcomes demanded by Africa now, or in the future, as populations, economies and the aspirations of nations continue to grow.
World Food Prize laureate for 2016 and Director of HarvestPlus, Howarth Bouis agreed that, "No government sector has more influence on a nation than the agriculture sector." "Nutrition is food security," added Beth Dunford of the US Agency for International Development (USAID).
At the reception following the Roundtable, the Global Panel launched its technical brief, The Cost of Malnutrition, which supports the calls on African Leaders and other actors to invest without delay in more cost-effective nutrition initiatives.
"Malnutrition is an indication of a malfunctioning society," said Victor Ajieroh of the Bill and Melinda Gates Foundation and Global Panel Representative to Dr Akinwumi Adesina, President of the African Development Bank as he outlined the costs of malnutrition on individuals, households and economies. The evidence of stunting is clear and yet the number of stunted children in Africa rises by 500,000 each year. "Better nourished nations are more productive and investing in agriculture for nutrition leads to significant socio-economic gains."
By acting now to combat malnutrition decisively and swiftly, significant progress can be made towards securing Africa's future sustainable economic success, and to its enhanced social and environmental wellbeing.
To find out more: