Innovative Agriculture: A force for good child nutrition in Africa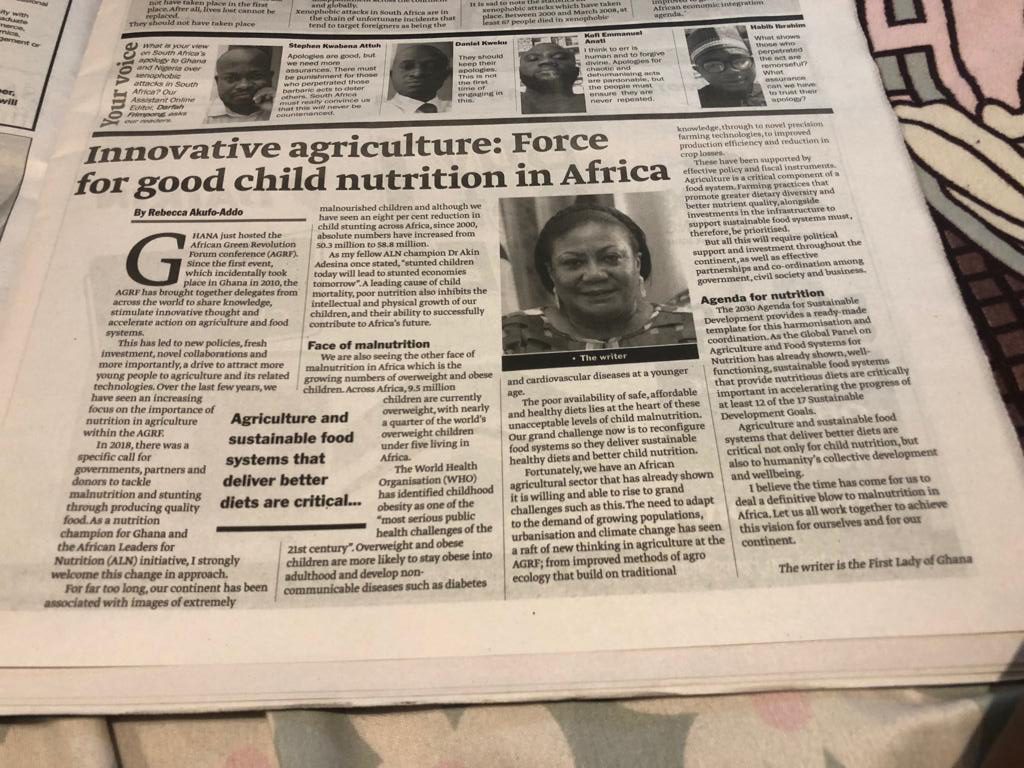 From the 2-6th September, Global Panel had the pleasure of attending and speaking at the annual African Green Revolution Forum (AGRF) conference hosted in Ghana. In reflection of this successful event, the First Lady of Ghana, Rebecca Akufo-Addo, in her role as Nutrition Champion, discusses the importance of well-functioning food systems to improve nutrition across the continent.
---
Accra, Ghana, September 20th 2019 – Ghana just hosted the African Green Revolution Forum conference (AGRF). Since the first event, which incidentally took place in Ghana in 2010, the AGRF has brought together delegates from across the world to share knowledge, stimulate innovative thought, and accelerate action on agriculture and food systems. This has led to new policies, fresh investment, novel collaborations and, most importantly a drive to attract more young people to agriculture and its related technologies.
Over the last few years, we have seen an increasing focus on the importance of nutrition in agriculture within the AGRF. In 2018 there was a specific call for governments, partners and donors to tackle malnutrition and stunting through producing quality food. As a nutrition champion for Ghana and the African Leaders for Nutrition (ALN) initiative, I strongly welcome this change in approach. For far too long, our continent has been associated with images of extremely malnourished children and, although we have seen an eight percent reduction in child stunting across Africa since 2000, absolute numbers have increased from 50.3 to 58.8 million. As my fellow ALN champion Dr Akin Adesina has previously stated, "stunted children today will lead to stunted economies tomorrow". A leading cause of child mortality, poor nutrition also inhibits the intellectual and physical growth of our children, and their ability to successfully contribute to Africa's future.
The Face of Malnutrition
We are also seeing growing numbers of overweight and obese children in Africa, the other face of malnutrition. Across Africa, 9.5 million children are currently overweight, with nearly a quarter of the world's overweight children under five living in Africa. The World Health Organisation (WHO) have identified childhood obesity as one of the "most serious public health challenges of the 21st century". Overweight and obese children are more likely to stay obese into adulthood and develop non-communicable diseases such as diabetes and cardiovascular diseases at a younger age.
The poor availability of safe, affordable and healthy diets lies at the heart of these unacceptable levels of child malnutrition. Our grand challenge now is to reconfigure food systems, so they deliver sustainable healthy diets and better child nutrition.
Fortunately, we have an African agricultural sector that has already shown it is willing and able to rise to grand challenges such as this. The need to adapt to the demand of growing populations, urbanization and climate change has seen a raft of new thinking in agriculture at the AGRF, from improved methods of agro-ecology that build on traditional knowledge, through to novel precision farming technologies to improve production efficiency and reduce crop loss.  These has been supported by effective policy and fiscal instruments.
Agriculture is a critical component of a food system that is being driven to produce more food as cheaply as possible, with less focus being put on child health and the environment. Farming practices that promote greater dietary diversity and better nutrient quality, alongside investments in the infrastructure to support sustainable food systems must be prioritised.
But all of this will require political support and investment throughout the continent, as well as effective partnerships and co-ordination between government, civil society and business.
Agenda for Nutrition
The 2030 Agenda for Sustainable Development provides a ready-made template for this harmonization and coordination. As the Global Panel on Agriculture and Food Systems for Nutrition has already shown, well-functioning, sustainable food systems that provide nutritious diets are critically important in accelerating the progress of at least twelve of the seventeen Sustainable Development Goals.
Agriculture and sustainable food systems that deliver better diets are critical not only for child nutrition, but also to humanity's collective development and wellbeing.
I believe the time has come for us to deal a definitive blow to malnutrition in Africa. Let us all work together to achieve this vision for ourselves, and for our continent.
---
The printed version of this article was published by The Daily Graphic in Accra, Ghana