Press release: Fragile Contexts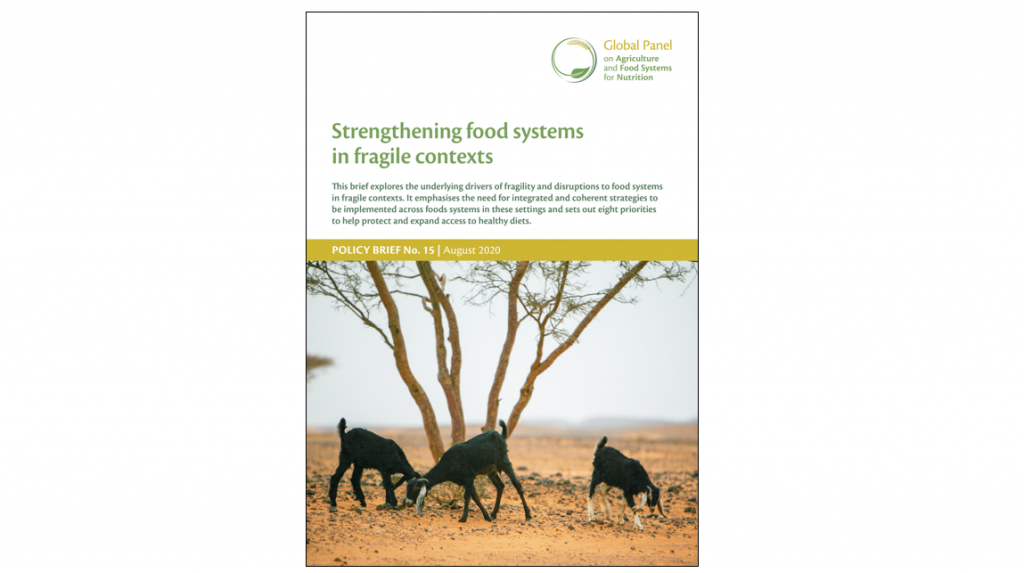 Launch of a policy brief on Strengthening Food Systems in Fragile Contexts
3rd August 2020 – The Global Panel on Agriculture and Food Systems for Nutrition today announces the launch of its latest policy brief, Strengthening Food Systems in Fragile Contexts.
To mark the launch, a live webinar hosted by the United Nations World Food Programme and the Global Panel is taking place on Monday, 3 August 2020 2.00 to 3.15 PM CEST. Please join us for a discussion on policy priorities and sharing of best practice to strengthen food systems in fragile contexts, in the wake of COVID-19. For more information, please visit the Global Panel website: Glopan.org
This policy brief seeks to stimulate international organisations, governments, and other stakeholders, to realign policies within fragile contexts to ensure that diet and nutrition are improved, whilst also building more sustainable, resilient food systems.
1.8 billion people live in fragile regions with high societal, economic, environmental, political and security risks. By 2030, this is projected to reach 2.3 billion, and will include 80% of the global poor (OECD). The consequences of these risks, magnified by the COVID-19 pandemic, include unpredictable food supplies, price volatility, high input costs, disrupted markets and limited food safety regulation, all of which will leave many people unable to access healthy diets.
In 2020, fragile states were disproportionately affected by ongoing food crises with serious ramifications for the lives and livelihoods of those most affected.
Dr Shenggen Fan, Global Panel Member and Chair Professor of China Agricultural University, said: "For the 1.8 billion people who live in economically, ecologically and/or politically fragile parts of the world, the vulnerability of food systems and the threat of malnutrition is not just a risk, it's the reality."
The Global Panel's policy brief argues that the international community, and policymakers in fragile low- and middle-income countries, must put greater emphasis on making food systems more resilient to the many negative forces contributing to fragility today. While saving lives and livelihoods in crises must remain a humanitarian imperative, steps can be taken, even in fragile settings, to make food systems more capable of providing healthy and sustainable diets for all.
Rather than proposing new policy actions, this brief recommends priorities which incorporate a combination of interventions with particular focus on the 'missing middle' between consumer demand and supply.
Special Envoy to the UN Food Systems Summit and Global Panel Member, Dr Agnes Kalibata, remarked that "Single hazards are a major challenge to reducing poverty and malnutrition but the combined impact of multiple hazards can be devastating". She added, "COVID-19 has further amplified these and risks pushing fragile food systems further into nutritional crisis."
A range of political, social, economic and environmental challenges often coalesce in fragile settings. Promoting healthy and sustainable diets can be seen as a second-order concern when so many individuals are hungry. The brief highlights the reasons why conflict and climate change are mutually linked with food system fragility and are two of the most important factors which are driving recent increases in global levels of undernourishment.
When dealing with the food system challenges presented in fragile contexts, policymakers must rethink their approach, paying specific attention to nourishing populations rather than just addressing hunger. This will require better links between humanitarian and development actors to support actions across all domains of the food system to increase access to healthy diets.
Unless this is done, hundreds of millions of people will be unable to access healthy diets.
The policy brief is now available here: https://www.glopan.org/resources-documents/fragile-contexts/
Notes to Editors
About the Global Panel on Agriculture and Food Systems for Nutrition
The Global Panel on Agriculture and Food Systems for Nutrition was established in August 2013 at the Nutrition for Growth Summit in London. Funded by the UK Department for International Development, the Panel is an independent group of experts and leaders who hold or have held high office and who show strong personal commitment to improving nutrition. The Panel is co-chaired by His Excellency John Kufuor, (former President of Ghana) and Sir John Beddington (former UK Government Chief Scientific Adviser). The Panel aims to provide guidance to decision makers, particularly governments, to inform and promote agricultural and food policies and investment for improved nutrition in low and middle income countries.
Its influence is delivered through evidence-based technical and policy briefs, and Foresight Reports which are produced by the Global Panel Secretariat in London, Panel members and experts. These documents contain recommendations for policy interventions at a national and regional level. It also convenes high level events in partnership with governments and other stakeholders.
Contact: secretariat@glopan.org