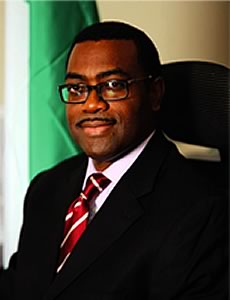 President of the African Development Bank
Dr. Akinwumi Adesina is the President of the African Development Bank.
Dr. Adesina was Minister of Agriculture and Rural Development for Nigeria. He is the eighth President of the African Development Bank, and the first Nigerian to hold the post.
Championing agricultural investments in one of Africa's fastest growing economies, Dr. Adesina was aggressively implementing bold policy reforms and pursuing innovative agricultural investment programs to expand opportunities for the private sector, moving agriculture away from a development program to a business.
Dr. Adesina is a consummate scholar of African agriculture and economics with more than 20 years of experience managing successful agricultural programs across Africa.
Until his appointment as Minister of Agriculture and Rural Development in 2011, he was the Vice President of Policy & Partnerships for the Alliance for a Green Revolution in Africa (AGRA) where he fostered cooperation among African governments, donors, farmers' organizations and the private sector to stimulate agricultural growth and to unlock new opportunities for farmers.
Before joining AGRA in 2008, he was associate director for Food Security at the Rockefeller Foundation for more than a decade. He has held senior leadership positions within the international agricultural research centers of the Consultative Group on International Agricultural Research (CGIAR), including the International Institute for Tropical Agriculture (IITA), West Africa Rice Development Association (WARDA) and the International Crops Research Institute for the Semi-Arid Tropics (ICRISAT).
In 2007, Dr. Adesina was awarded the prestigious YARA Prize in Oslo, Norway for his leadership in pioneering innovative approaches to improve access of agricultural inputs for African farmers. He received the Distinguished Alumni Award from Purdue University in 2008, the Distinguished Alumni Award in 2009 and the Grand Commander of Greater Ife in 2013, both from the Obafemi Awolowo University.
He was awarded the Borlaug CAST Award in 2010 by the Council for Agricultural Science and Technology, USA, for his global leadership on agricultural science and technology. The same year, Dr. Adesina was awarded an Honorary Doctor of Humane Letters by Franklin and Marshall College, USA, for his global leadership on agriculture and improving the lives and livelihoods of the poor.
In 2010, Dr. Adesina was appointed by the United Nations Secretary General, Ban Ki-moon, as one of 17 world leaders to galvanize international support for the United Nations Millennium Development Goals.
Dr. Adesina also serves on the Global Panel on Agriculture and Food Systems for Nutrition, recently launched at the G8 Food and Nutrition Summit 2013 in London.
In 2012, the minister was conferred with second highest National Honor, the Commander of the Order of Niger, for his outstanding service to his country. In 2013, the minster was awarded the Forbes Africa Person of the Year for his bold reforms in Nigeria's agriculture sector, which has empowered more than six million farmers across Nigeria to embrace agriculture as a business.
Dr. Adesina has a Ph.D. in Agricultural Economics from Purdue University, Indiana, USA and a Bachelor of Science in Agricultural Economics (First Class Honours) from Obafemi Awolowo University, Ife, Nigeria.
"Our goal is to make sure that no child goes hungry, that we are able to feed every child."