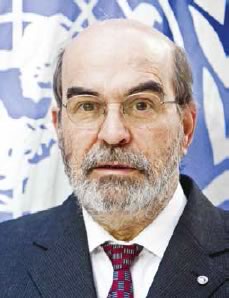 Special Ambassador to the Global Panel
José Graziano da Silva has worked on issues of food security, rural development and agriculture for over 30 years. He was elected Director-General of FAO by the Organisation's Conference of Member nations on 26 June 2011. After his first term from 1 January 2012 to 31 July 2015, Graziano da Silva was re-elected for a second 4 year-term (1 August 2015 to 31 July 2019) with the votes of 177 countries during FAO's 39th Conference.
In 2001 he led the team that designed Brazil's "Zero Hunger" (Fome Zero) programme. In 2003, he was charged with its implementation by President Luiz Inácio Lula da Silva who named him Special Minister of Food Security and the Fight against Hunger.
Between 2003 and 2010, the "Zero Hunger" programme helped lift 28 million people out of extreme poverty. It also inspired a new set of public policies aimed at promoting economic and social development in Brazil.
Prior to his election as FAO's eighth Director-General, Dr. Graziano da Silva headed the Organisation's regional office for Latin America and the Caribbean between 2006 and 2011.
In that role, he actively supported the "Hunger-Free Latin America and the Caribbean Initiative", which made the region the first in the world to commit to totally eradicating hunger by 2025, emphasising the importance of family farming, rural development and the strengthening of rural institutions to guarantee food security.
In addition, he has encouraged joint initiatives with other United Nations agencies, supported South-South cooperation, and opened up the Regional Office to civil society. He actively participated in FAO's internal reform process, with a special emphasis on decentralisation.
An academic by training, he started teaching at Brazil's State University of Campinas (UNICAMP) in 1978. He also chaired the Master's and Doctoral Programme in Economic Development and Environment of UNICAMP's Institute of Economics and has supervised 26 doctoral theses and 13 Master dissertations.
He has written and edited 26 books on rural development, food security, and agrarian economics. He holds a Bachelor's Degree in Agronomy and a Master's Degree in Rural Economics and Sociology from the University of São Paulo (USP) and a PhD in Economic Sciences from the State University of Campinas.
In addition, he has two post-Doctorate degrees in Latin American Studies (University College London) and Environmental Studies (University of California - Santa Cruz). Brazilian and Italian by nationality, Dr. Graziano da Silva speaks English, Portuguese and Spanish.
"There is no doubt in my mind that we can end hunger and malnutrition in a sustainable way."