Meeting #SDG targets through diversified high-quality diets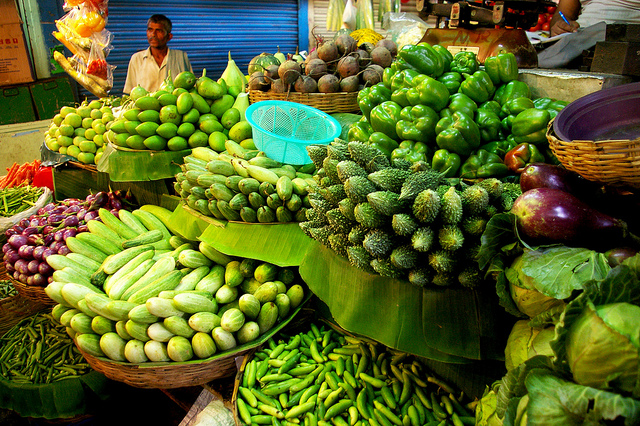 The new Sustainable Development Goals (SDGs) were finalised at the UN General Assembly last month. Unlike their predecessors, the Millennium Development Goals, the SDGs targets are not just about poverty reduction and reduced mortality, but about sustainable systems, including agriculture, energy production and urbanisation. The big question posed is, can improved wellbeing for all be delivered through sustainable systems that do not in the process undermine the planet's environmental services and stability?
This challenge is particularly clear in SDG2, which deals with achieving food security and improved nutrition while promoting sustainable agriculture. That portfolio of inter-linked aspirations is potentially conflicting. A traditional response to food insecurity has been to grow more staple grains, like rice, maize and wheat. For decades, global agricultural systems have focused on these crops as a strategy for improving incomes and addressing hunger in poor countries and export income in richer countries.
However, such a strategy has been shown to fall short both in terms of ensuring that everyone has access to food, and in terms of promoting enhanced nutrition. Good nutrition is a building block for health which underpins potential gains both in resolving undernutrition and in preventing diet-related non-communicable diseases, such as diabetes and heart disease. But good is not only about caloric sufficiency; it is about quality diets that meet every individual's need for essential vitamins, minerals, protein and more. Food-based approaches to promoting good nutrition require us all to consume healthy diets that include non-staple foods like fruits, beans and pulses, fish, eggs, dairy products and some meat. Yet, although the real price of staple foods has fallen worldwide over several decades, the price of nutrient-rich foods has changed little or increased, particularly in places where diets of the poor are most lacking in them.
To achieve both food security and improved nutrition policymakers must support diversified high quality diets for all. This requires investment in public research that can improve the productivity and resiliency of nutrient-dense foods. It means supporting market and information systems that make diversity of diets both affordable and attractive to the consumer. And it will require actions to enhance efficiency and technological innovation along food value chains to reduce post-harvest losses and post-consumer waste. Diversifying our food supply, food markets, and food baskets in these ways should be a target for SDG2, and an indicator for measuring success. To support changed diets by 2030, food systems must become sustainable as well as nutritious. This requires imaginative investment in appropriate producer incentives, markets that work for the poor, and more resource-efficient value-chains.
Sustainable agriculture is the third challenge in this SDG. Agricultural production is already limited by supply of natural resources like water in many regions, and climate change will exacerbate this situation, particularly in food insecure and undernourished communities. In making agriculture more sustainable, we must not focus only on our staples, but on imaginative ways to produce vegetables, livestock and other nutrient dense foods with less environmental impact, to ensure a diverse food supply to those who need it most.
The old adage about we are what we eat still holds true. But the spirit of the post-2015 sustainable development agenda requires us to also understand that we are the way we produce food, the way we distribute it, and the way we choose to consume.
By Jeff Waage, Technical Advisor for the Global Panel, and Patrick Webb, Policy and Evidence Adviser for the Global Panel.
Image: On the market by Paul